Indian desserts are a perfect delight in every season. Not only do they satisfy the taste buds but also energize the body. It is a perfect excuse to stay on the dinner table after having a heavy meal. Here are some mouth-watering recipes that will allow you to sit on the dinner table for a longer time.

Badam Ka Halwa :

Ingredients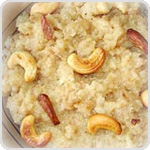 2 cups Badam

2½ cups Sugar

2 drops Kesar (Saffron)

1 cup Ghee

1 cup Milk
Method
Leave the almonds in hot water for 1 hour.

Remove the outer skin and grind to a paste with the milk.

Make sugar syrup to 1 cup milk and boil till it reaches a one-string consistency.

Add the badam paste and cook till it thickens.

Add the kesar colour.

Add ghee little by little stirring continuously on low heat.
Carrot Halwa :

Ingredients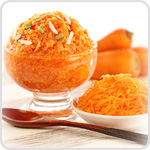 Method
Wash and grate the carrots. Soak the raisins in water for 30 minutes. Blanch and shred the nuts.

Put the water to boil, when it starts boiling add the grated carrots. Cook for 5-7 minutes.

Add the milk. Cook on a low heat. Stir occassionaly. Add sugar, mix well and cook till the sugar has dissolved and all the milk has been absorbed properly.

Add ghee and simmer for 2-3 minutes. Add the slightly crushed cardamoms and the raisins. Mix well.

Remove the gajjar halwa from heat and arrange in a serving dish. Garnish with almonds and pistachios. Serve cold, hot or at room temperature.
Shrikhand :

Ingredients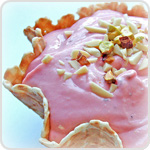 For the garnish
Method
Hang the curds in a muslin cloth in a cool place for approximately 4 hours until all the liquid (whey) has drained off

Rub the saffron into the warm milk until it dissolves.Mix together the hung curds, sugar, saffron mixture and cardamom in a bowl and churn using a hand blender.

Place in the refrigerator.Serve cold garnished with slivers of pistachios and almonds.