Essential Oil Treatment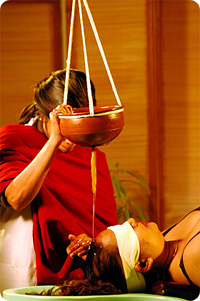 Pure essential oils are generally aromatic and good forhealth too. They are mainly herbal extracts and essences and quite natural in origin. They are highly concentrated and need to be much diluted before using. Each of the essential oils has specific properties, traits and characteristics and one may need only few drops of the oil for the treatment. It takes skills and expertise to use these oils and they must be stored at childproof and pet-proof areas. In specific conditions such as pregnancy, diabetes, skin allergies and epilepsy, take advice from aroma therapist before using them. Here are some tips for using essential oils as therapeutic cure:

Pure essential oils are diluted with pure vegetable carrier oil such as almond, grape seed or jojoba oil to apply on skin.



Dilute oils with water for full body baths and footbaths.



Some essential oils such as angelica, bergamot, lemon and lime can make skin more sensitive to ultraviolet light and thus, skin need special care after treating it with such oils.



Essential oils with higher potency level such as fennel, hyssop, sage and wintergreen should be used in smaller doses while milder oils such as rose, lavender and chamomile should be used in comparatively greater quantities.



Essential oils should never be ingested and need to be kept away from delicate body parts such as eyes and mucous membranes.



Specific health ailments need proper diagnosis and advise from a licensed medical practitioner rather than trying to remedy them with essential oils away.



Do not use essential oils in pregnancy and stop using them in case they cause redness, burning, itching or skin irritation.
Body Art With Henna | Henna For Hair | Mehendi As A Tradition | Henna Patterns And Techniques | History Of Mehandi-Art Of Beautifying Hands | Mehendi Art In The West | Tips To Apply Mehandi | Tips For Making Henna Paste |