Hair Cut By Age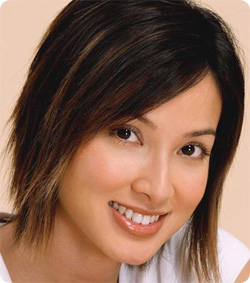 Hairstyle that you choose to suit your face always must suit your age also. Of course various hairstyles of diverse age groups have graced the halls of business meetings, courtrooms and even the red carpets over the years all over the world. Mesmerize your environment by your sexy haircuts, which must go on with your age…. also!
Hair cut at twenties
Twenties are roaring and thriving any hairstyle will suit at this age to the frame of mind. Only thing to have in mind as far as the hair cut at twenties are concerned, is to have a cut, to suit the shape of the individual's face and texture of hair. Further, your body shape is also one factor to choose the right haircut.
Your body type works better with most of the hairstyles at this age. Stop thinking about the old ponytail hair-do. Keep the style aside only for your 'sports hall' time. Compliment your build with more of feminine styles.
Go for a medium-length cut. An angled look will hide extra pounds. Try side parts and bangs for a soft, matching look to your looks. Avoid styling your hair that is too short and close to the head. Round-structured styles, like a curly, short and not too-short style with lots of height and width, are also not for you.
Those who are slim in their earlier twenties can go for a medium length, waver hairstyles. Too short hair will give you boyish look.
Irrespective of your figure try this tip: On relaxed moments keep your hair loose, for glossy appearance. Do not go to extreme hairstyles at this age. Too-short hair will make your head look too small, and too - hair will be too intense to your figure.
Hair cuts for thirties
Short haircuts create self-confidence, safety, and the 'go getter' image, and that is why, the fashion industry calls it the power cut.
Notably, short hairstyles are a great deal to handle and also can lessen up the appearance of one's age. Above all at early thirties one can gain the true self-confidence by the way they look by short hair cut.
You can look younger in short haircuts.Wrinkles highlighted by the straight lines of your long hair will give you great looks.
In addition, short haircuts work most excellent with fine textured hair. If you have extremely curly hair, it may be patterned to give you the younger looks.