Henna Patterns And Techniques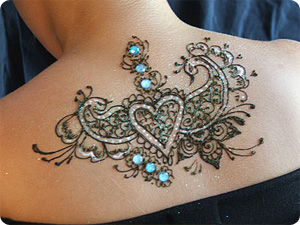 The henna design patterns are simple to do and they are truly, fun, watching one on your body. They look pretty to add something different to a beach outfit or just to any casual dress. There are no rules you have to follow, to decide which part of your body is good for henna designs. You can have henna design tattoos anywhere on your body, but no doubt, they look immense on the hands, shoulders, legs, hips and tummy depending on what you are wearing. Keep in mind henna tattoos will match you only with the rightgarments.
The henna tattoos are not a long life promise, but they last only few weeks only maximum. You can do a henna tattoo yourself or go to a henna artist.

About henna designs
There are three main types of designs: African, Arabic and Indian

African designs

These are bold, big designs with thick lines. They usually have floral and geometrical patterns stimulated by African subjects idea. In Africa some people use black henna; this type of henna is not safe because they are not natural and it contains artificial chemicals, which will be allergic to many people.

Arabic Designs

Large floral designs are the highlight of Arabic designs. The most frequent ones are geometrical and normal floral patterns.

Indian henna

These are the most complicated and elaborated types of designs; the patters look almost like lace. The lines are fine and the patterns use the typical Indian ritualistic patterns.

A henna design for you

You can create your own design, or duplicate someone else's, either from a printed book or from some free intended patterns on the Net. You can together, go after the design and to draw it on your hand or copy it on you hand using a see-through paper and a pencil and then apply henna on top. One more option is to buy a henna pattern or a template/stensil or a complete henna packet sets.

Henna design techniques
Applying henna on your body is simple, but preferably someone else should do it for you. So have a henna party, invite some friends and apply henna to each other, and say your creativity with unique designs.
The designs found in earthenware or ceramic wares or designs on fabric are also great idea for your temporary henna tattoo. The pre-Colombian designs are gorgeous and easy; you may choose a unusual and specific symbol or just anything that catches your thoughts.
Time: A knowledgeable henna performer applies most small to medium designs in about 10 minutes. For a learner minimum of 30 minutes are required for tattoo. You will need to leave the henna on the hands for about 5 to 7 hours. In this time you can do any other activities that will not affect the henna. If you do not leave the henna for sufficient time or if you wash the tattoo spot the tattoo will not last for a long time.