Tribal Tattoo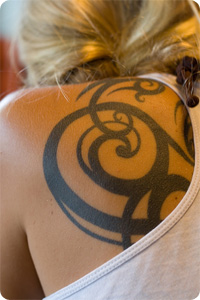 Tribal tattoos have always been in vogue. They take you back to the primitive times. However, the tribal tattoo designs have now undergone a major transformation. Infact, they have been constantly evolving and morphing into what has come to be known as the neo tribal tattoo designing. Read further to know more about the tribal tattoo art.

There are basically two kinds of body art tribal tattoos; one is the black work on the arms and legs, while the other style lends a modern primitive look to the whole body. Various colors are used in its making. Tribal tattoo designs have taken ideas from the tribal art that was pursued by the native and indigenous tribes. Its origin can be traced back to the times of the older tribes like Maori Tribe (indigenous people of New Zealand), African Tribal, the Celtics etc.

Tribal tattoo designs were initially used to identify specific tribes. Certain communities used it as a social status symbol. However, today, it has emerged as a popularfashion. In the contemporary times, more and more people are going in for tribal tattoo designs for its high aesthetic value. It has a great visual appeal. Popular tribal tattoo designs include butterfly, dragon, and sun. Back and neck are the two most common areas for tattooing. To become a style icon, guys are also getting their chest tattooed.