Independence Year : 1902

Population : 11201000

Life Expectancy : 76.2

Capital : 2413

GNP : 17843.00

GNP Old : 18862.00

Local Name : Cuba

Government Form : Socialistic Republic

Location : Caribbean, island between the Caribbean Sea and the North Atlantic Ocean, 150 km south of Florida

Terrain : Flat or gently rolling plains, hills; mountains up to 2,000 meters (6,000 ft.) in the southeast.

Climate : Tropical, moderated by trade winds; dry season (November-April); rainy season (May-October).

Ethnic Group : 51% mulatto, 37% white, 11% black, 1% Chinese (according to Cuban census data).

Religions : roman catholics,santeria

Official Website : www.cubagov.cu/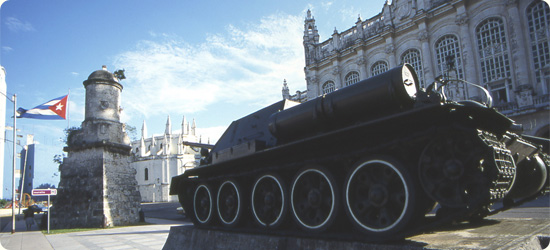 Genral Information - Cuba


Background
Located in the Caribbean Sea, the Cuban archipielago comprises of the Cuba Island, the Youth Island and around 4200 islets and keys.
The native Amerindian population of Cuba began to decline after the European discovery of the island by Christopher COLUMBUS in 1492 and following its development as a Spanish colony during the next several centuries.
An US intervention during the Spanish-American War in 1898 overthrew finally Spanish rule.
Fidel CASTRO led a rebel army to victory in 1959; his iron rule has held the country together since. Cuba's communist revolution, with Soviet support, was exported throughout Latin America and Africa during the 1960s, 70s, and 80s.