Independence Year :

Population : 2500

Life Expectancy : 0.0

Capital : 1791

GNP : 0.00

GNP Old : 0.00

Local Name : Christmas Island

Government Form : Territory of Australia

Location : Southeastern Asia, island in the Indian Ocean, south of Indonesia

Terrain : steep cliffs along coast rise abruptly to central plateau

Climate : tropical with a wet and dry season; heat and humidity moderated by trade winds; wet season December to April

Ethnic Group : Chinese 70%, European 20%, Malay 10%

Religions : Buddhist 36%, Muslim 25%, Christian 18%, other 21%

Official Website : www.christmas.net.au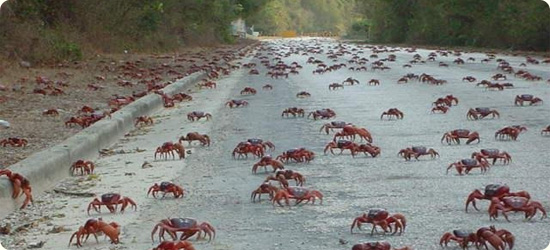 Genral Information - Christmas Island


Kiritimati, as Christmas Island is spelled by the locals ("ti" is pronounced "s" in Kiribati), is the largest Atoll in the Pacific at 222 square miles. The island is part of the Republic of Kiribati (kir-i-bas) which consists of 33 islands scattered across 2,400 miles of the Pacific Ocean near the equator. Kiritimati is part of the Line Islands, which combined with the Phoenix and Gilbert groups of islands and Banaba make up the Republic of Kiribati.

The atoll was discovered by Captain James Cook in on December 24, 1777 (hence the name) on his third voyage to the Pacific. It was later annexed by Great Britain in 1888, and was called Christmas Island when it was part of the Gilbert and Ellice Islands colony, which were under British rule.

From 1902 through 1949, various small groups occupied the atoll including 13 Japanese from the schooner Toba Maru who where there to catch birds for the feather industry and American troops from the air transport ship "Haleakala".

Over the years since it's discovery in 1777, Christmas Island has also claimed numerous ships including this Korean ship (pictured to the left) which is still visible today on the flats at the southeast end of the atoll.

From 1957 to 1958, the British used Christmas Island for nuclear tests, and then in 1962, the United States also conducted nuclear tests on the island. There are spots on the island today that are still barren from this testing, however, no discernable hazards remain on the island today.

In 1975, Kiritimati was declared a wildlife sanctuary, and in 1979, the Republic of Kiribati, including the island of Kiritimati, was given full independence as the Republic of Kiribati.

Today, Kiritimati is home to approximately 5,000 residents who live primarily in London, Tabwakea Village, Poland and Banana Village. There are three hotels/lodges on the island and one small airport (Cassidy Airport).

In 1995, the Republic of Kiribati unilaterally moved the international date line to the eastern boarder of the island nation so that it would no longer be divided by the date line. As a result, Christmas Islanders were the first to celebrate the new millenium.