Independence Year : 1945

Population : 212107000

Life Expectancy : 68.0

Capital : 939

GNP : 84982.00

GNP Old : 215002.00

Local Name : Indonesia

Government Form : Republic

Location : Southeastern Asia, archipelago between the Indian Ocean and the Pacific Ocean.

Terrain : More than 17 000 islands; 6 000 are inhabited; 1 000 of which are permanently settled. Large islands consist of coastal plains with mountainous interiors

Climate : tropical; hot, humid; cooler in the highlands.

Ethnic Group : 45% Javanese, 14% Sudanese, 7.5% Madurese and 26% other ethnic groups

Religions : Islam 87%, Protestant 6%, Catholic 3%, Hindu 2%, Buddhist and other 1%

Official Website : www.indonesia.go.id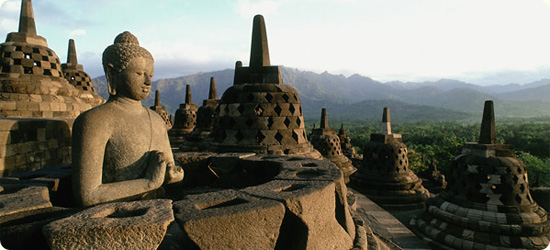 Genral Information - Indonesia


Background
Indonesia is the largest archipelago in the world. It consists of five major islands and about 30 smaller groups. The archipelago is on a crossroad between two oceans, the Pacific and the Indian, and bridges two continents, Asia and Australia. This strategic position has always influenced the cultural, social, political, and economic life of the country which has achieved independence from the Netherlands in 1949.
Current issues include: implementing IMF-mandated reforms of the banking sector, effecting a transition to a popularly elected government after four decades of authoritarianism, addressing charges of cronyism and corruption, holding the military accountable for human rights violations, and resolving growing separatist pressures in Aceh and Irian Jaya.
On 30 August 1999 a provincial referendum for independence was overwhelmingly approved by the people of Timor Timur. Concurrence followed by Indonesia's national legislature, and the name East Timor was provisionally adopted. The independent status of East Timor - now under UN administration - has yet to be formally established.