Common Admission Test (CAT)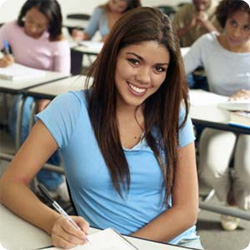 CAT, abbreviated for Common Admission Test is stepping stone for MBA aspirants to get admitted in reputed management schools of India. CAT is conducted by Indian Institute of Management- IIMs for admission to various levels of management courses. Apart from the Indian Institutes of Management (IIM), CAT is mandatory entrance examination for several other leading institutes like Kirloskar Institute of Management, Mudra Institute of Communication (MICA) and others too.

Eligibility for Common Admission Test ( CAT ):
For all IIMs, the minimum eligibility criterion for admission is that the candidate must pass with at least 50% marks. Candidates appearing for the final year graduation can also apply for the CAT examinations, however they are expected to produce a certificate from the Principal/Head of the Department/Registrar/Director of the university/ institution certifying that the candidate has obtained 50% marks or equivalent based on latest available graduation scores.

The contents of the course of Common Admission Test ( CAT ):

Common Admission Test - CAT is a 2 ½ hours test comprises of four sub sections:

Quantitative Ability (QA):In this section, the questions are designed such that there is a lot of stress implied on reasoning skills more than on their computational skills.

Data Interpretation (DI):This section presents data to the candidate in forms such as case lets, pie diagrams, bar graphs, etc so as to evaluate the candidate`s skills at analyzing the given information. Data Sufficiency questions in this section are based on basic mathematics.

Reading Comprehension (RC):This section has around 6-8 passages with an overall length of 4500-5500 words and about 50 questions to answer in a span of about 30 minutes. However this too can vary according to the level of difficulty of questions.

Verbal Ability (VA):This section explores the candidate's understanding of the English Language and also tests them on their Reasoning Skills. The questions in this section typically comprise sentence correction, sentence sequencing, verbal reasoning etc.