Pre-primary Education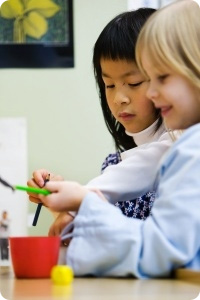 Education is one of the vital factors that help in the development of a human being. It has been observed that early childhood education plays a stimulating role for the Physical, Intellectual, Language, Social and emotional development of the child. At present various opportunities are provided and several avenues are open that helps in imparting education to the children all over the world. Indian education policy is also recognised for its modern structures and methods. Gradually, India has been introducing various Structure of Indian education since the colonial rule. Among the several structures, Pre-primary Education is the foundations of a child's knowledge, skills and also decides the behavior of the children.

Pre-primary Education has an essential part to play in every school System, though Pre-primary education in India is not a fundamental right and thus a very low percentage of children receive preschool educational facilities. In India this services are called Integrated Child Development Services and Anganwadis. Indian pre- primary schools have different provisions. These kindergartens are divided into two stages - lower kindergarten (LKG) and upper kindergarten (UKG). LKG class comprises children from 3 to 4 years of age, and the UKG class comprises children 4 to 5 years of age. The completion of preprimary schools sends the children to primary schools.

In the formal education system, Pre-primary Education is considered to be an integral part of regular schools. Therefore, all pre -primary instruction is attached to Junior Basic or Primary Schools. The pre primary education is termed as "Nursery".Pre primary education also extends to Kindergartens, creches and Montessori schools. In these sections of schools, these special educational facilities are made available to the children below the compulsory age of six.

Pre-primary Education is offered to all children belonging to both urban and rural areas. In urban areas, where sufficient children are available within a reasonable radius, separate Nursery Schools or departments are provided. Otherwise nursery classes are attached to Junior Basic or Primary Schools. In addition to that Pre-Primary education is provided free of cost. Thus, the main object of education is to give young children social experience rather than formal instruction.