Baby Gift Ideas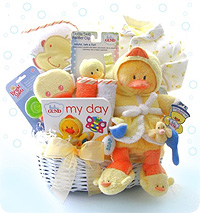 Babies are a bundle of joy. They bring happiness and hopes to our lives. We all love and adore babies. There are so many ways through which you can demonstrate your love and affection for the baby. Gifts are one of them. Here are some of the gift ideas.
Babies like colors and colorful things. You can gift a box of colors-crayons, watercolors, color pencils et al. Along with the colors you can gift a color book or sketch book. Such gifts can bring out the latent talents of the babies.

Babies love toys. But while giving toys you have to be very careful. The toy should not hurt the baby. It should not have sharp edges. Ideally it should have soft feel. Stuffed toys such as teddy bears can be given. You can also give toys which help in developing creative and analytical skills in a baby such as building blocks, jigsaw puzzle etc.

You can gift a book/CD of nursery rhymes and poems.

You can gift a walker or a perambulator for the baby. It would be very useful.

You can gift colorful clothes, shoes and other apparels to the baby.

Baby jewelry such as locket, pendants can be given. You can also gift birthstone to the baby as per astrological considerations.