Birthday Gift Ideas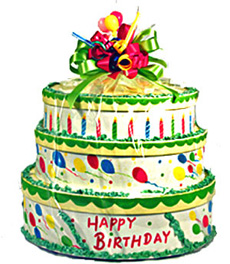 Whenever we think of a Birthday party the first thing that comes to our minds is birthday gift. Gifts are an inseparable part of any festive occasion and more so of birthday. Birthday is the most important event in a person's life. It is the very reason for his existence. Make this occasion more special by gifting him/her something unique/ something special. But choosing a birthday gift is not an easy task. While selecting a gift you have to keep in mind the person's age, temperament, and likes and dislikes. Here are some gift ideas for all categories of persons.

Kids
Kids and stories go hand in hand. Gift a nice storybook. Some special children editions of all time great classics can be gifted. Cartoon books such as Archies, Tintin etc can also be gifted.
Kids love to ride bicycle. Gift an elegant and sturdy bicycle.
This is the age of computers. You can gift a PC so that the child can hone his computer skills from an early age.
If the child is interested in painting/sketching you can motivate him by giving a sketchbook, colors and painting brush.
Children today love hi-tech electronic games. You can gift them a video game or some other electronic gadget game.
If the child is musically inclined you can gift a musical instrument such as guitar, mouth argon etc.
Kids will always adore a box of chocolates, cookies, candies etc.
Him(hubby, boyfriend, friend, brother, father)


You can gift a nice piece of jewelry-a bracelet or a ring.
Gift the membership of a health club, gym, sports club, etc to help keep themselves in shape.
Conventional gifts such as wristwatch, diary, daily planner, electronic gadgets, men's toiletries, are always a big hit.
You can gift an apparel-coat, jacket, shirt etc.
Leather bag, briefcase, tie pin. Cuff link, or a pen-something that add to the personality can also be given.
Her (wife, girlfriend, friend, sister, mother)
Jewelry is always a big favorite with ladies. You can gift a necklace, ring, earrings, bracelet etc.
Ladies are always very conscious about looks. You can gift a beauty package with some spa.
Perfumes, toiletries, cosmetics etc. can also be given.
Designer clothes, purses, footwears and other fashion accessories can also be given.