Fairy Tattoos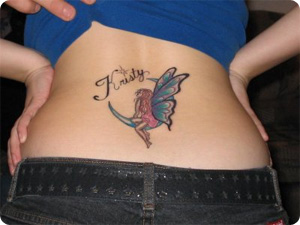 With their supernatural powers, cutesy appearance and psychic reading abilities, fairies have been dominating the fantasy world since ages. Now, they have expanded their popularity, by traversing right from the fantasy books and movies all the way to the body art parlors. The mythical characters have emerged as one of the elements of the most happening trends in the fashion world - tattoos. The fashion buffs, especially women, are fascinated by fairy tattoo art, which mainly uses the design of the adorable, naughty and tribal fairies.

Various poses of fairies, both cute and seductive, are combined with flowers, hearts, crosses, glitter, stars, sun and other fantasy themes to create the magical piece of body art. Fairy tattoos are available in different colors, ranging from red, yellow, orange, purple, green, blue to black and white. They are usually tattooed on lower back, ankles, shoulders, arms, upper back and the chest area. Learn more facts about fairy tattoos in the following lines.

Fairy Tattoo Designs

Tinkerbell Fairy
One of the most adorable fairies, Tinkerbell, now features in the fairy tattoo art. You may choose a series of small sized Tinkerbells linked to each other in flight, as the design for your tattoo. Consult a skilled artist to make this charming tattoo on your upper arm or ankle.

Flower N Fairy
A popular design chosen for tattooing, the 'flower n fairies' looks attractive due to its romantic and picturesque appearance. You may choose vibrant colors such as red, shades of pink for the flower and the fairy. Try to make it as colorful as possible, but do not overdo it.

Butterfly Fairy
The concept of butterfly fairy can be converted into a charming tattoo, by replacing the butterfly's body with that of a fairy. Choose colorful wings for the butterfly fairy. Highlight the features of the butterfly fairy with red, rose and black colors.

Heavenly Fairy
A cute fairy resting atop a crescent moon would grab all the passing glances. Consider adding substance to the design, by setting the fairy in a backdrop of nighttime sky and twinkling stars. Heavenly fairies would look good in lower back or chest area.

Tribal Fairies
The traditional tribal fairy tattoo art is here to stay. The design is very attractive, with a fairy figure that is not too cutesy, unlike her adorable counterparts. Add the typical wilderness of tribes to the design, by making the figure look sharp. You may consider using black, white and shades of gray for the tribal fairy. The design looks remarkable on lower back and shoulder.

Naughty Fairy
Apart from being light-hearted, extremely kind and having a magical sense, the fairies can also be naughty at times. Think of getting a naughty fairy with a seductive, shadowy figure in black and gray, tattooed on your arms, and get ready to flaunt it at a night party!