Celebrity Tattoos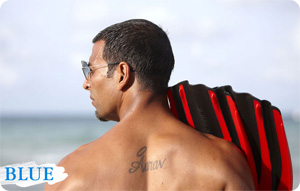 Talking about style statements and fashion trends, how can celebrities be far behind? Tattoos have become so popular in celebrity circles, that both tattoos and celebrities have become synonymous to each other. Right from rock stars, to movie stars, to pop stars, to athletes and even to sports stars, everyone proudly display their tattoo designs and body art. Shedding off their stigmatic perception of tattoo, celebrities have been seen sporting more and more tattoos, as symbol of style, fashion and freedom. If you thought that tattooing is a present era trend, you are definitely in for a surprise. Read on to know more about how celebrity and tattooing became unanimous to each other.

Celebrities & Tattooing
The art of tattooing, as a fashion trend, emerged in the 19th century, by the British upper classes. However, during those times, family crests and other small signets were popular tattoo designs, which they sported on their forearms and other body parts. The craze of celebrity tattoo took shape in the 20th century, when the western rock and pop artists showed their keenness for tattoo art. The art, which was until then, sported by a minority group, started expanding in its reach. It was during this period, when the idea of tattoo being an excellent self-expression art form, caught both the common mass and the celebrities by their imagination wings.

Though the rage and enthusiasm of tattoo, as a body art was gaining popularity, it was with the British football star, David Beckham, that the tattoo craze reached its zenith. Beckham got his arm tattooed, showing Victoria in Hindi. If this were not enough, in 2004 tattoo artist, Louis Malloy, flew from the UK to give David Beckham, a new winged cross tattoo on the back of his neck, during a soccer tournament. In the decade of 1980s, Janis Joplin and Cher were some among the prominent celebrities, who sported tattoos. Since rock stars, film stars and pop stars are seen more as symbol of freedom, they tend to reaffirm their image by displaying tattoo art.

Though there are many celebrities, who flaunt temporary tattoos, there are some who have permanent tattoo art on their bodies. Angelina Jolie and Johnny Depp are some of the prominent Hollywood stars, who have distinct tattoos on their bodies. Similarly, rock stars and athletes tend to ink their bodies with tattoos more than any body else. It is interesting to note that most of the US basketball stars have prominent tattoos displayed on their bodies. This proves that tattoos have become the sports world's most flaunted form of self-expression. Everyone, from basketball stars to boxers and wrestlers, seems bitten by the tattoo bug.

In a survey, conducted by the Associated Press, it was found that more than 35% of all NBA players had tattoos on their bodies. Other examples of celebrity tattoos are Tommy Lee Jones, Pamela Anderson, Britney Spears, Eminem, Kate Moss, Sarah O'Hare, Vin Diesel, Wesley Snipes, Justin Timberlake, 50 Cent and Pharrel. Tattoos impressed on the body of a celebrity generate much interest from the common people and are a great way for them to get a sneak peak at something which goes on in their lives. Tattoo bug has bitten not only celebrities but also many art followers, museums, galleries and institutions all over the world.