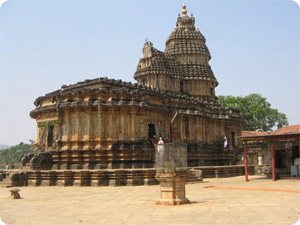 Sri Sharada

The Sharada Temple at Sringeri is considered to be a part of an exceedingly vital 'Hindu Advaita Matha' which encounters a hefty crowd of fervent devotees all throughout the year.

Legend has it that Sharada Temple at Sringeri was included in the first 'matha' whose foundation had been laid by Adi Shankaracharya and as a consequence the matha is also reckoned as 'Sankaracharyas'.

Being situated at the brink of the placid river called Tunga, a very timid and peaceful ambiance prevails around the area of the Sharada Temple at Sringeri. The location of the Sharada Temple at Sringeri makes it comfortably accessible from any part of the state. The Sharada Temple of Sringeri is positioned at a length of approximately 105 kilometers from the city of Mangalore.

Apart from the Sharada Temple in Sringeri there are also a number of schools that are looked after by the officials of the matha. The Sharada Temple from Sringeri is maintained by the Sringeri matha.

There is also a very rare collection of books that have been written in Sanskrit that belongs to the matha under which the Sharada Temple at Sringeri lies.

A Brahmachari is elected as the supreme commander of the matha. The sole criteria that is considered behind his selection is his knowledge of the 'vedas'.

The 'Brahmachari' post his appointment can elect the most adept follower as the 'sannyasin' and execute all the proceedings of the matha on behalf of the Brahmachari. Sri Bharati Tirtha Swaminah is the serving head of the matha.