Bridal Trousseau List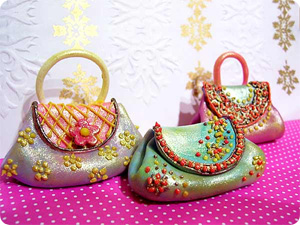 Getting married is no easy task. There are so many preparations that have to be done before the D-day, like booking the venue, arranging for the decorations, selecting the caterer and, most important of all, doing the shopping. While shopping for a wedding, it is the bridal trousseau that takes most of the time and effort. It has to comprise of everything that the bride might need, in the months following her marriage. This is because, in the initial days, she is usually shy and might feel awkward asking her husband or in-laws for something. Thus, her parents make sure that she has each and every item, be it of everyday use or just party use, with her. In case you want to explore the wedding trousseau of an Indian bride, the following information will prove handy.

Indian Wedding Trousseau

Jewelry
One of the most important parts of a bridal trousseau comprises of the jewelry. Traditionally, yellow gold jewelry, in the form of necklaces, earrings, chains, rings, bangles, anklets, toe rings, armlet and waistbands, was given to the bride. However, these days, people opt for white gold, platinum and diamond jewelry as well. Those who have a low budget prefer giving silver jewelry to their daughter.

Sari
In terms of bridal clothes, saris surely top the list. The actual type of sari, like Bandhani, Banarasi, Brocade, Kanjeevaram, Kota Silk, Mysore Silk or Paithani, will depend upon the region to which the bride belongs. However, one thing is for sure, the saris will have heavy work done on them, in the form of thread embroidery, zari work, zardozi work, etc, and will be in bright colors.

Salwar Kameez
In some of the regions of India, especially in the north, salwar kameez also forms a part of the bridal trousseau. Just like saris, they also have heavy work done on them, which might include gold/silver thread embroidery, zari work, zardozi work or the use of sequins, crystals, lace, etc. The suits will be in bright colors and even the dupatta/chunni will be adorned with work.

Shoes
An Indian bride, as a part of her trousseau, will also be carrying lots of shoes and sandals with her. Apart from sandals in the usual colors, like white, black, cream, brown, silver and golden, the ones particularly matching her saris or salwar kameez will also be included. In fact, some of the brides carry a separate suitcase, which consists of just their shoes.

Handbags
One of the most important accessories for a woman, handbags form a part of the Indian bridal trousseau as well. Their number as well as quality will depend upon the budget of the bride's parents. While some of them give bags in the universal color, like white, black, brown, silver and golden, other might buy a separate bag for each of the outfits in the trousseau.

Cosmetics
Cosmetics form yet another important part of the bridal trousseau in India, just like other countries of the world. The cosmetic kit will comprise of the usual items, like moisturizers, lipsticks, nail paints, eye-shadows, mascara, eye-liners, lip-pencils, blush-on, foundation, creams, and so on. Along with that, in many of the cases, there will be yet another important item - bindi.

Linen
It is believed that a bride will have to set up her new home, after getting married. This is why; linen has always formed a part of the Indian bridal trousseau. It will include items like bed sheets, bed covers, blankets, quilts, curtains, table covers, mats, pillow covers, etc. Apart from that, bath linen (towels) will also form a part of the trousseau.

Other Items
Amongst the other items that are included in an Indian wedding trousseau include toiletries (soap, toothbrush, toothpaste, etc), night wear, lingerie, watch, etc. The basic idea behind including all these items is to make sure that the bride does not have to ask anybody in her new home, for something, at least in the initial days after her marriage.
Trends in Bridal Lingerie

Lingerie is a fashionable term used for women's undergarments. The word was initially derived from the French word 'linge', meaning washables. This was further referred to 'lin', corresponding to washable linen, which was the fabric from which European garments were made, before the introduction of cotton. The concept of appealing lingerie was developed in late nineteenth century. In 1960s, lingerie was further modified to give it a sexual appeal. Though bridal lingerie has always occupied a special place in the wedding preparations for a bride, its demand is increasing as per the modern day improvements done to it.

Bridal lingerie is given special importance as it is supposed to enhance the beauty of the bride to make her look more appealing. In effect, a bride pays equal attention to her lingerie as she pays to her bridal dress. With the modern day advancements, there are a number of options for a bride to choose from. There are different types of lingerie available in the markets, which the bride can pick as per her own body type. However, it should be kept in mind that apart from looking sensuous, the lingerie should be comfortable, fitting perfectly to enhance her body curves and contours.

Bridal Lingerie for Upper Body

Babydoll - It is a short, sleeveless, lose nightgown or negligee, which consists of formed cups with an attached loose fitting skirt. It comes adorned with lace, appliqués, ruffles, fur, bows and ribbons along with spaghetti straps. It is usually teamed with a matching panty. It is a highly eroticized nightwear and is often termed as a shortie nightgown.


Bustiers - It is a short fitting innerwear, which resembles Basque. It extends only up to the ribs or waist, pushing the breasts up and shaping the waist. It is ideal to be worn under a low back dress.


Camisole - It is sleeveless and tight fitting innerwear and usually covers the entire torso. They are available in different materials such as satin, silk, lycra, nylon, cotton, etc. They can be worn with or without brassieres.


Negligee - A negligee is a form of nightgown, which was introduced in France in the 18th century. A modern negligee is loose, made of sheer translucent fabric.


Lower Part of the Body
Panties - Though panty is the commonunderwear for women, it does offer wide variety for the newly weds. The bride can choose from normal briefs to high cut briefs, from boyshorts to control panties, from hipsters to bikinis as per her comfort.


Thongs - A thong is an undergarment, which consists of a narrow strip connecting the waist strip. The thin strip just fits between the buttock cheeks of the wearer. They are available in varied sizes, shapes and materials. They are known as 'tanga' in Brazil.


G String - A G-string is avariation of thongs. Instead of a thin strip, it just contains a string of fabric, connecting the front pouch with the waist band at the rear.