Mehendi Decor Tips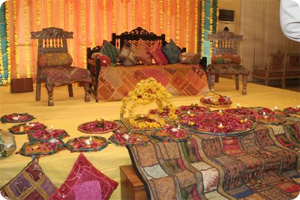 Mehendi is one of the important pre-wedding rituals followed in many parts of India. It holds significance, primarily in the northern parts of the country, where henna is considered auspicious for festive occasions. While mehendi is an indispensable part of the pre-marriage celebrations of Hindu and Muslim weddings, people following other religions have also adopted it, with the changing times. Today, most of the people conduct the mehendi ceremony at their homes. At the bride's place, on the first day of the three-day wedding, her hands and feet are adorned with mehendi. Intricate designs, which look very beautiful, are chosen for the bride.

Till some time back, a close female relative of the bride used to apply mehendi on the bride's hands and feet. Today, people prefer calling professional beauticians to serve the purpose. During the mehendi ceremony, the bride is adorned with henna, and jewelry. In addition, her relatives take pleasure in getting the mehendi done on their hands as well. The expenses for the mehendi ceremony is borne by the bride's parents, close family member or herself. On the other hand, at the groom's place, his female relatives engage themselves in applying mehendi. In many communities, the mehendi is also applied on groom's hands.

Since so much important is associated with the ceremony, the home, where the party is hosted, should be decorated well, so that the festive mood is reflected at the place as well. Moreover, the mehendi party should bring together all the right ingredients that allow the bride to relax a bit, so that she lets go her pre-wedding anxieties and enjoys a pleasant time with her family, friends and close relatives. Therefore, do not overwhelm her by overcrowding her place with heavy decorative items. Make use of simple, but attractive items, like ribbons, streamers and bells.In the following lines, we have given some ideas for the mehendi party Decor.

Mehendi Decor Ideas
Think about the style and the theme that you want to set for the mehendi party. Since it is a private affair, wherein only the close female relatives (apart from the family members) are called upon, keep the theme simple.
Decorating the place with fresh flowers and scented tea-lights is a nice idea. It will set a lovely ambience for the ceremony. Wind chimes, hung at the dividers of the rooms, would add to the overall appeal.
Hang a string of bells at the entranceway of the place. You may also welcome your guests by hanging a small banner at the entranceway.
Ensure that you provide the home with enough lighting. It is wise not to resort to dim lighting, because it is mehendi ceremony, wherein intricate designs of henna are carefully applied on the bride's hands and feet. Hang a crystal chandelier at the place, where the mehendi is applied.
The mehendi party mood can be reflected by making use of henna color scheme for the entire place. Arrange henna-colored throw pillows on the couch. Use shades of green for the comforters, bedding, table cloth and curtains. Choose the right shades of green for the purpose. Bring in variations by making use of contrasting shades of the color.