Planning Your Honeymoon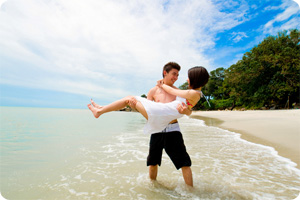 You have just witnessed the most important occasion in your life, your wedding, taking place. Now, you find yourself entering a new phase, where so much love, care and affection await you. On one hand, you are very happy and excited at the prospect at having someone to share your life with. On the other, you feel nervous and apprehensive, as you still have to know your partner completely. It is in the latter context that honeymoon comes to a couple's help, providing them enough time to explore each other. However, to make your honeymoon a memorable experience, you need to organize it in the perfect way. While planning your honeymoon, you will find that the following tips prove useful.

Honeymoon Planning Tips

Choosing The Destination
The first decision that you will have to take as a couple, with regard to your honeymoon, will be the place you want to visit. In case you are amongst the lucky couples, who have similar tastes, there will be no trouble. However, by any chance, if you like sea and he/she is in love with mountains, there will be a need to find a balance between your dream destinations. This will also give you your first lesson as a couple, understanding, adjustment and being considerate towards each other form the key to a happy marital life.

Arriving On The Budget
After you have arrived at the type of place you would like to visit, it is the time to settle on the budget that you want your honeymoon to be planned within. It will help in deciding the exact spot where you will go, the type of hotel that will suit you, the maximum number of days you can spend on the honeymoon trip, and so on. Your first honeymoon will never ever come again and create memories of a lifetime. So, please do not be stingy. At the same time, make sure that you have at least some balance in your account, after coming back.

Deciding The Time & Duration
Apart from budget, there are a number of other factors that will decide the duration of your honeymoon. For instance, the number of leaves that you have managed to avail from the office or the number of days your business will manage to run smoothly without you. Then, you have to decide on the exact date of your departure. It is always advisable to put a few days' gap between the wedding and honeymoon, so that you get time to recover from the stress and excitement of the D-day and feel fresh on the honeymoon.

Making The Arrangements
Once you have taken all the decisions, regarding the destination, budget, time and duration of your honeymoon, go ahead and start making the arrangements. Right from the plane/train tickets to hotel bookings to transport requirements, making all the bookings in advance. Never ever leave anything for the last minute, or you might end up jeopardizing your honeymoon plans. In case you feel that it is too much hassle, making each and every arrangement on your own, hire the services of a reputed travel agent.

Spending Time With Each Other
Last, but not the least, remember that, more than anything else, the aim of honeymoon is to help a newly wed couple know each other better. As they spend some time alone, away from the family members and friends, they come closer to each other and form a deep bond of love. So, make the most of your time with each other. Get to know your partner's likes and dislikes, his/her tastes and preferences, interests, inclinations, and so on. The quality time that you spend on honeymoon will help go a long way in building a lifelong union.

Some Travel Tips For Honeymoon Couples
Most of the couples prefer to go to a hitherto unexplored destination, for their honeymoon. So, it is advisable to be really careful while packing for the trip. Since you are going to an unknown place, carry all the necessary items with you, including the clothes, toiletries, emergency medicines, etc.
Whenever you are roaming around, try not to keep too much cash on your person. Always keep the excess cash in the safety deposit given by your hotel. As much as possible, try to carry traveler's cheques and cards, when you are out of the country.
Since you are going on your honeymoon and would want to save the memories (to be cherished later on), make sure not to forget the camera. It is always advisable to carry extra films and battery along with you, to avoid unnecessary spending.
Before starting the journey, make sure to get photocopies of the tickets as well as the passport. They will come handy if, God forbid, any mishap takes place. Do carry your mobile phone with you and if the roaming is expensive, get a local number after reaching your destination.
Maharashtrian Pre-Wedding Rituals | Maharashtrian Wedding Rituals | Maharashtrian Post-Wedding Rituals |