Trends in Bridal Sari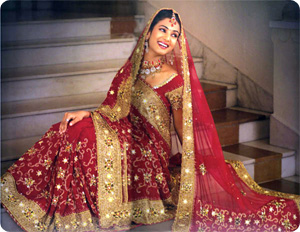 Sari, the traditional garment worn by Indian women, has been a preferred choice for the brides in India, since ages. In fact, initially, sari was the only option considered by Indian brides, in many of the regions in the country. Though the trend has changed with the passing time, many of the brides prefer to wear a sari on their wedding day, even today. The elegance and charm that a saree can bestow on a woman can hardly be provided by any other garment and this is one of the reasons why Indian brides still want to go for the attire.

What Is A Sari
Sari can be described as a rectangular piece of cloth, having more length than the width. While the width of a sari remains almost the same, its length might range from four to nine meters. The sari is draped over the waist, on top of a petticoat, with one of its end draped over the shoulder. The outfit comprises of a choli (blouse) as well, which comes a few inches below the bust line and has short sleeves and a low neck as well as back. The midriff is bared to some an extent, since there is a gap between the choli and the petticoat.

The Styles
In terms of styles, we can categorize the wedding sari according to the regions where they are most popular - eastern India, western India, northern India and western India. In eastern India, the brides are usually found opting for one of these styles, in the saree, - Baluchari (Bengal), Kantha (Bengal), Ikat Silk & Cotton (Orissa), Cuttacki Pata Silk (Orissa), Sambalpuri Pata Silk (Orissa), Bomkai Silk (Orissa), Mayurbhanj Tussar Silk (Orissa), Sonepuri/Subarnapuri Silk (Orissa), Bapta & Khandua Silk and Berhampuri Silk (Orissa).

Coming down to western India, Pathani (Maharashtra), Bandhani (Gujarat and Rajasthan), Kota Dori (Rajasthan) and Lugade (Maharashtra) are the styles that brides mostly go for. In the central India, Chanderi (Madhya Pradesh), Maheshwari (Madhya Pradesh) and Kosa silk (Chattisgarh) are the styles that are preferred by the brides. As for the south, including Tamil Nadu, Andhra Pradesh, Kerala and Karnataka, Kanjivaram, Mysore Silk, Ilkal saree and Valkalam saree comprise of the most common bridal sari options.

The Fabrics
In India, one of the most preferred choices for a bridal sari will comprise of silk. In fact, traditionally also, people have opted for silk for the bridal wear. However, the trend is changing with time. Now-a-days, we find brides going for fabrics like crepe, disheen, georgette, new, tissue and shamoi-satin as well. Generally speaking, the choice of fabric depends upon the latest trend, the personal preference of the bride as well as the budget. However, one thing is for sure, the sari is adorned with heavy embroidery, stone work or other embellishments.

The Colors
Red sari has been traditional choice for bridal wear in India, since times immemorial. The color is considered to be very auspicious and is deemed to be associated specifically with marriage. However, these days, many brides have started opting for other colors in their sari as well, such as golden, pink, orange, maroon, onion-color, magenta, brown and even yellow. Even dual toned saris, as in red and yellow, green and brown, yellow and orange, pink and blue, have started wooing the brides of the present generation.
Party Wear Sarees

These days, women don't have to try too hard to look good and trendy when it comes to a party. Even in traditional attire, women can check out the latest trend and flaunt it confidently. Rest assured, a designer sari for a party wear looks absolutely cool and will make you stand apart in the rowd. Designer sarees for party wear are available in a range of fabrics like georgettes, chiffons, crepes, silks, satins, synthetics, crushed silk, etc. You can choose from a plethora of colors and color combinations that suit your personality or are your favorite. Read on to know more about the trend of designer party wear saris and start your collection to stock up your wardrobe!
The most popular fabrics for designer wear sarees are georgettes and chiffons. They are lightweight, flowing and drape beautifully around the body. These saris are designed exquisitely with sequins, mirrors, stones, etc. in different styles and patterns. In some, you may find very heavy work on the 'pallu' and in some; the borders have a heavy work of stone and sequins.


These days, you have saris that come with a totally chic look. More than traditional attire, they look apt for wearing at parties. The latest craze is about a sari that has a 'butterfly' pallu. This pallu tapers or narrows at the part that is to be collected or pleated at the shoulders. From there, it again opens up like a fan and beautifully drapes around or can be just left like that.


Another popular style is to have Technicolor or abstract prints. The prints are usually in a contrast color. For instance, if the saree is black in color, the prints can be white, red or turquoise blue. The aim here is to create a stunning look with just prints and colors. A popular craze among young girls is to go for animal prints like zebra or tiger prints.


Forget the little-black-dress for cocktail parties! Pick up an elegant black saree with a hint of mirror work or sequins or crystals at the borders and the pallu. Go in for flowing silks, crepe, satins, etc. for an ultra-glam look. Nothing is hotter than an Indian woman in a stunning sari at a party!


It depends on the kind of party you are going to attend. If it is a traditional party like a wedding or a festival, consider dressing up in a traditional silk saree, along with some gold jewelry. You can get a great collection of silk sarees for traditional occasions in many different colors and borders.


Sari Fashion

Sari is the traditional attire worn by women in India. It is worn by women belonging to different regions, religions, class and society. The importance of the attire has not diminished since ages and continues to lure both the wearer and the onlooker. Though, with time it has undergone change and has evolved greatly, to enhance the beauty of Indian ladies. There is a wide variety of saris available in the market today, all designed to look unique. So, to know about the latest fashion in the Indian market, read on.

Traditional

In case you are looking for some thing traditional and ethnic, sky is the limit for you. There is an array of saris available to cater to your choice and taste, which are evergreen in terms of fashion appeal. You can choose from the classics such as Banarasi sari, Kanjivaram silk, Patola, Lucknowi Chikan sari, the Tangail and Shantiniketan sari (with floral and animal motifs) and the cool and crisp Kota saris of Rajasthan. For a plusher look, you can go for Chanderi saris of Madhya Pradesh, Venkatagiri and Poona sari, Pochampali and Maheswari saris, and so on. Adding folk touch to your wardrobe, the colorful Bandhini sari, which is an example of tie and dye craft of Rajasthan and Kutch is a piece worth keeping.

Latest
Bringing the latest from the market, the saris in vogue nowadays are designer saris, embroidered saris and mirror work saris. These saris are available in varies materials like georgette, chiffon, crepe, silk etc. Moreover, the butterfly pallu saris are also liked by the women, as it gives them a completely hot look. These saris provide full opportunity to flaunt your beauty as they are knotted below bare shoulders. Focusing on blouses, halter necks are quite in. You can even catch a Bollywood beauty in those shimmery halter blouses, giving complex to Venus herself. So, to look traditional yet fashionable put on that trendy sari and get ready to sizzle.
Banarasi Sari

Woven out of fine silk and bearing elaborate golden embroidery either along the border or all over, the famous Varanasi sari made in the holy city of Banaras in Uttar Pradesh state since the ancient times is ranked among the finest traditional sarees of India. These saris are quite heavy due to its rich embroidery and are donned by Indian women only during special occasions like wedding, parties and festivities. Most ladies wear heavy gold jewellery to complement the Banarasi sari.

A Brief History of Banarasi Sari
The tradition of making Varanasi or Banarasi sarees in Varanasi or Banaras is very ancient. But it has continued to be passed down from one generation to another and continues to flourish. One will find thousands of weavers making the Varanasi silk saree in this scared city even today. The training usually begins when one is as young as 10 years. It is believed that the making of Varanasi saree gained prominence during the Mughal rule. Persian motifs were fudged with Indian designs on silk to create the distinct flowery patterns so typical of Varanasi saris today.

Types of Banarsi Saris
Created in eye-catching shades and pattern, the Banarasi sarees of India are so famous today that they are exported all over the world. They usually fall into four categories – pure silk (katan), organza (kora) with zari and silk, georgette and shattir. Weaved on the power loom, normally three people are required to make one Varanasi sari. Each Banarasi silk sari can take 15 days to six months to complete depending upon the intricacy of the designs. Banarasi sari manufacturing supports strong cottage industry in areas like Varanasi, Gorakhpur and Azamgarh.

Making of the Varanasi Sari
Earlier the silk for Banarasi sari used to be imported from China, but nowadays they come from mainly from Bangalore in South India. Banarasi sarees earlier used to bear designs made out of original gold and silver threads and thus, used to cost several lakhs of rupees. They were worn by the people from royal families only. If the designs were too elaborate, manufacturers then even took a year's time to make create a single saree. Since the use of simple threads came into prominence, even those Indians with average income came to afford Vanarasis.

Where to Buy Varanasi Saris
Though Varanasi or Banarasi sari is mainly made in the holy city of Banares in India's Uttar Pradesh state, they are exported in bulk not only to different region within the country but also outside. When purchasing in India, the best option for buying the Banarasi sari is visiting state emporiums or shops selling traditional Indian sarees. If in Delhi, you can check out Karol Bagh market, CTC Plaza, Nalli Saris, Dilli Haat and other such places