Wedding Photography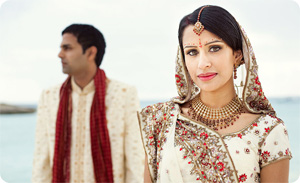 Wedding is a once-in-a-lifetime situation, which requires an intuitive sensitivity to each and every aspect of the ceremony. Choosing a professional wedding photographer is one of the prerequisites to make the ceremony a memorable one. When it comes to marriage photography, the decisions are very often made on the basis of price. In fact, what you should be looking for in a marriage photographer is his/her ability to capture the precious moments of the ceremony, so that you will enjoy viewing the photos time and again, and cherish them for the rest of your life. Here in this article, we provide you tips that will help you know how to choose a wedding photographer.

How To Choose A Wedding Photographer
The best professional photographers usually do their bookings a year in advance. In case you want to have outstanding photographs for your wedding, then start searching for a professional wedding photographer few months prior to the ceremony.
You may consult your relatives and friends, who have held weddings prior to your ceremony. Ask if they liked the photography of their own wedding. Browse through their wedding albums.
If you have a list of photographers to choose from, then peruse their websites or portfolios, to scrutinize their photographic capabilities. Look at their wedding photo samples. Consider how they perform at different given environments and settings of wedding venue.
Peruse the works of the photographer. For the purpose, request him to bring two or three wedding photo albums, which are he has done recently.
Make sure that you see at least one album of an entire wedding, right from the start to the finish. This will enable you to figure out how the photographer has handled the entire ceremony.
Be sure to examine the color, clarity, exposure, composition and graininess of the photographs clicked by the photographer. This will help you determine the style of photography adapted by him.
Budget is an important aspect for the marriage photography. Clearly specify your affordability, to the photographer. Mention whether you want to capture the images of all the ceremony (pre-wedding, wedding and post-wedding rituals) or just want to frame the wedding photos. This decision will affect the budget.
Find out whether he has shot at your wedding venue before. If yes, then he may know the places to get good shots or the best ways to capture the special moments.
It is very important to discuss the wedding photography equipments as well. You should know the type of camera and equipment generally used by the photographer during wedding ceremonies.
In case your photographer uses a digital camera, make sure that the gadget is capable of taking images of at least 8 mega pixels. In case he uses an optical camera, ensure that he uses professional grade quality film instead of consumer quality film.
Every professional needs a backup equipment, in case his original equipment fails to work properly, during the ceremony. Check whether your photographer carries a backup with him or not.