Winter Wedding Invitation Ideas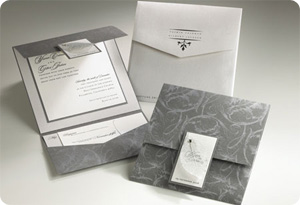 Wedding is truly a special occasion for people. They put their heart and soul into every single detail during the preparations—right from invitations, dress and food to decorations and favors—to make the ceremony the most memorable occasion in their life. Whether you want your wedding to be a formal, semi-formal or casual affair, choosing an attractive invitation is vital, because it carries the feel of the occasion. If your wedding is in winter and you are looking for some nice invitation ideas for the same, this article is just right for you. Go through the following lines and check out the best winter wedding invitation ideas.

Invitations For Winter Wedding

Formal Wedding
For a formal wedding, you may print the details—venue, date and time—on a crisp card, in white—a winter color. You may choose handmade paper for the card as well. You may either stick to the traditional black script lettering or give a cool feeling to the invitation by using navy blue ink. Elegant and more formal fonts shall be used in this case. You may choose silver colored card as well. The invitation, for the occasion, can be square shaped or rectangular.

Semi-Formal Wedding
Add a little bit of flair to the invitation, if you want your winter wedding to be a semi-formal affair. Snowflakes are perfect for winter season. Consider making the invitation casual, but still with a touch of tradition, by adding a simple template of snowflakes along the bottom of the cards. You can choose dark blue or brown as the color of the font. Send out round-shaped invitations for the ceremony, to give the semi-formal feel to it. Glossy or embossed patterns in the paper are suitable for a semi-formal wedding.

Informal Wedding
You may think about funny shapes for the winter wedding invitation, when it comes to making the ceremony an informal one. Winter wedding invitations are available in a variety of shapes, the most common being the ones edged like a snowflake or resembling a snowman. You may choose colored paper for the same, in the winter color of light blue. The wordings can be printed in a wide variety of styles, using bright colors.

Theme Based Wedding
Customize your winter wedding invitation according to the chosen theme. You may opt for floral prints and patterns, if the ceremony has been planned according to a floral theme. You may attach colorful stockings or small woolen bags to the invitation, for the most popular winter wedding theme - Christmas. Theme based wedding will give you apt freedom to experiment with unconventional ideas for the invitation.