Militant group Boko Haram killed around 2000 people in an attack in Northern Nigeria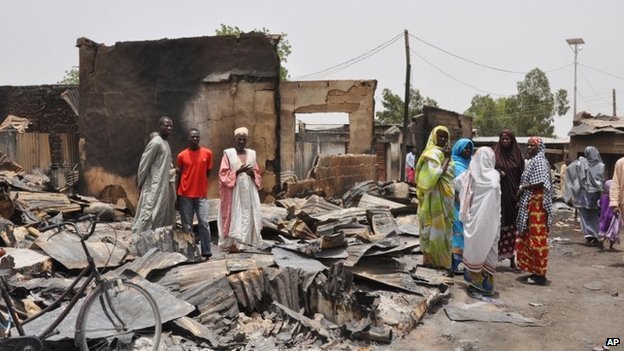 A small city on the northern border of Nigeria witnessed an Islamic extremist attack by the jihadist group Boko Haram on January 9, 2015. The attack killed as many as 2000 people.
The attack is said to be the deadliest in the history of Boko Haram in its ongoing five-year long insurgency in northern Nigeria.
Boko Haram extremists, who opposed to western-style education and secular governance in Nigeria, carried out a multi-day attack in the northeast of Nigeria, focusing on the town of Baga.
The multi-day rampage focused on Buga and the surrounding towns and villages.
The militants destroyed around 16 towns around Buga.
Many survivors fled into the nearby waters of Lake Chad, where some drowned and where others remain marooned on small islands, menaced by hippos.
History:
Within hours of Goodluck Jonathan's presidential inauguration in May 2011, Boko Haram carried out a series of bombings in Bauchi, Zaria and Abuja. The most successful of these was the attack on the army barracks in Bauchi.
Since 2009, the group has abducted more than 500 men, women and children, including the kidnapping of 276 school girls from Chibok in April 2014.
Boko Haram has perpetrated a series of large-scale attacks since then. Over 100 people were killed in simultaneous bomb attacks in the city of Jos in May 2014.
The group also killed dozens of farmers in their own fields in a remote northeastern corner of the country in May 2014.
In November 2014, the group bombed a mosque in Kano, killing over 120 people.
In December 2014, the jihadists abducted scores of people from a village in northeastern Nigeria.
Overall, Boko Haram killed an estimated 11,000 people in 2014.
About Boko Haram:
Boko Haram, which literally means 'western education is forbidden,' is officially called Jama'atu Ahlis Sunna Lidda'Awati Wal-Jihad (People Committed to the Prophet's Teachings for Propagation and Jihad).
The group is a militant Islamist movement based in northeast Nigeria, which was founded in 2002.
Membership of the group has been estimated to number between a few hundred and a few thousand.
The group is designated as a terrorist organization in New Zealand, Australia, the United Kingdom, Canada, the United States and the United Nations Security Council, which declared it an al-Qaeda affiliate and imposed the al-Qaeda sanctions regime on the group.
Don't miss the stories
followIndiaVision India News & Information
and let's be smart!