Prosecutor to Pistorius: Did Reeva scream when you shot her?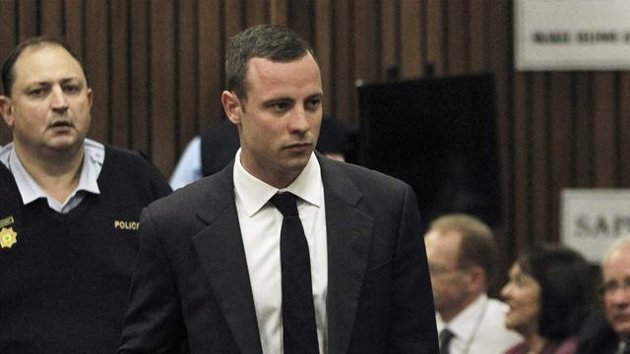 The prosecutor cross-examining Oscar Pistorius in his murder trial Friday tried to shred his version of events the night he shot and killed his girlfriend, saying they do not add up and go against how people would react in the situation the double-amputee Olympian has described. Pistorius is charged with premeditated murder for Reeva Steenkamp's shooting death. He claims he shot the model by mistake, thinking she was an intruder about to come out the toilet and attack him. The state says he intentionally killed her by firing his pistol through a closed toilet door after they had an argument in the predawn hours of Valentine's Day last year.
Chief prosecutor Gerrie Nel led the Paralympic champion through his own account of what happened in those moments before he shot Steenkamp. Pistorius said he heard a noise in the bathroom and moved down a passageway on his stumps toward the bathroom with his pistol while screaming to his girlfriend to get down from the bed and call the police. Pistorius says he then heard a noise in the toilet that he perceived to be the sound of wood on wood, which he said made him think someone was opening the toilet door to attack him. And then, Pistorius said, he opened fire. At each stage, Nel argued that the account was improbable, questioning why Pistorius did not establish where Steenkamp was and make sure she was OK, why he would approach the alleged danger zone if he felt vulnerable on his stumps, why Steenkamp would not respond to him and why an intruder would close himself in a toilet stall. "If you spoke to Reeva, the two of you could have taken lots of other steps," Nel said, adding that they could have merely left the bedroom. Pistorius said he wanted to put himself between the bathroom and the bed, where he said he thought Steenkamp was. Nel noted in Pistorius' version of the moments before the shooting, Steenkamp "never uttered a word." "It's not probable. It's not possible," the prosecutor said. "She was standing behind the toilet door talking to you when you shot her," Nel put to Pistorius, citing the trajectory of the three bullets that hit her and asserting that the couple fighting was the only "reasonable explanation" for why she was standing behind the cubicle door and facing it. Steenkamp wasn't scared of anyone "other than you" Nel said. "That's not true," Pistorius said. The exchange dramatically capped the first week of the double-amputee Olympian's testimony at his murder trial in a Pretoria courthouse. Trial resumes on Monday, the start of its fifth week. Earlier, Nel highlighted what he said was an inconsistency in Pistorius' testimony, noting that the Olympic runner had said Steenkamp didn't scream when he shot that night but also saying he could hear very little because his ears were "ringing" from the first gunshot. "You knew that Reeva was behind the door and you shot at her knowing that she was behind that door," Nel said. "That's not true, my lady," Pistorius said, addressing the judge. Nel also argued that Pistorius was prepared to lie about an incident as far back as five years ago when he claims someone shot at him from another car on a highway to build a backstory that he had a long-held fear of being attacked. Pistorius said he saw a "muzzle flash" and heard "a banging noise" as a black Mercedes drove past him in the incident, which he said was in 2008 or 2009. Pistorius said he slowed down turned off the highway and eventually went to a restaurant car park and called someone to come and pick him up. Nel asked Pistorius who he called and Pistorius replied he couldn't remember. "You cannot not remember," Nel said. It was "such a traumatic incident," the prosecutor said. Nel said Pistorius' failing to remember who he called was because "it never happened." "It's the one night that someone almost shot you, am I right?" Nel said. Pistorius said it was. "If I could remember who I phoned I would gladly give you their name," Pistorius said.
Don't miss the stories
followIndiaVision India News & Information
and let's be smart!