AAP surge proves people want third option: CPI-M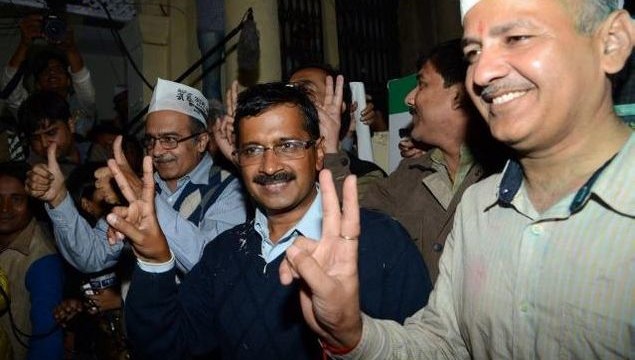 AAP surge proves people want third option: CPI-M
New Delhi – The Aam Aadmi Party's (AAP) spectacular wins in Delhi proves that people are looking for "a viable alternative" to both the Congress and the BJP, the CPI-M said Thursday.
"What the Delhi result shows is that where there is a viable alternative to the Congress and the BJP, the people will support it," the CPI-M's "People's Democracy" said in an editorial.
"It remains to be seen what political programme the AAP will formulate and how it will consolidate its support base," it added.
The Bharatiya Janata Party retained power in Madhya Pradesh and Chhatt! isgarh and snatched Rajasthan from the Congress. It finished as the single largest group in Delhi with 31 seats, followed by AAP's 28.
The "unambiguous message" of the elections in Chhattisgarh, Madhya Pradesh, Rajasthan and Delhi "is the outright rejection of the Congress", the Communist Party of India-Marxist publication said.
It said that though there were serious corruption charges against ministers in BJP-ruled Madhya Pradesh, the "Congress failed miserably in mobilising the popular discontent… The same situation prevailed in Chhattisgarh".
And since the Congress failed to attract the voters, the BJP was "the beneficiary of the strong anti-Congress mood among the people".
It said the BJP's march to victory in Delhi was foiled by AAP, which won "support from the middle classes and substantial sections of the urban poor and the Scheduled Castes".
But the CPI-M warned that to extrapolate any national trend from these election results! would be erroneous as the four states account for only 72 Lok Sabha seats.
"Both in the 2004 and 2009 Lok Sabha elections, the BJP won a majority of these 72 seats, yet the NDA lost the elections."
"People's Democracy" added: "What can be stated with certainty is that there is a strong anti-Congress trend among the people. Unlike the four states where bipolarity exists between the Congress and the BJP, in the bulk of the other states, this is not the situation…
"The people who have voted so resoundingly against the Congress have done so against the policies of the Congress which has heaped burdens on them like price rise, unemployment and corruption.
"The BJP has no policies which are different. What is required is to provide the people a secular democratic alternative based on alternative policies," it said.
Don't miss the stories
followIndiaVision News & Information
and let's be smart!