Ms Nota beats 9 parties in Maha; would have got 1-3 seats as a party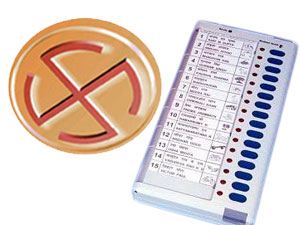 It's been just over a year since the Supreme Court allowed voters to reject all candidates in an election by pressing the Nota button – None of the Above.
In the assembly elections and general elections held since then, it did not seem to matter much, as the rise of Narendra Modi made every election an interesting affair. Few probably felt like pressing the Nota option.
However, slowly, but surely, Ms Nota is making her presence felt. In the recent Maharashtra assembly polls, results for which came in yesterday (19 October), Ms Nota registered nearly half a million votes – 4,83,459 votes, to be precise.
Just in case you think this is a small number, please note that this is more than what nine organised political parties managed to get. Among them: the Bahujan Vikas Aaghadi, the Rashtriya Samaj Paksha, the Samajwadi Party, the Republican Party of India (Athawale) (a BJP ally), the Bharipa Bahujan Mahasangh, and the Communist Party of India (Marxist).
In the Naxal-affected constituency of Gadchiroli, Ms Nota came in at a spiffy No 3.While the winner from the BJP got 70,185 votes, the runner-up from the Nationalist Congress Party got barely 770 votes more than Ms Nota (18,280 vs 17,510).
Clearly, the Naxals had something to do with this affinity for Ms Nota.
But even otherwise, Ms Nota has come into her own in this election and if one were to take the total Nota votes (4,83,459) into account and compare it with parties that won seats with less than that, one can gauge the real impact of this option.
With an almost similar number of votes, the All India Majlis-e-Ittehadul Muslimeen got two seats; with just two-thirds of Nota votes, the Bahujan Vikas Aaghadi got three seats; the Bharipa Bahujan Mahasangh and the Rashtriya Samaj Paksha got a seat each with less votes that Ms Nota.
Put another way, it means Ms Nota should get anywhere between one to three seats in the next Maharashtra assembly. Maybe the Election Commission should keep two seats vacant to tip its hat in the direction of Ms Nota.
The Haryanvis, however, seemed less enamoured by Ms Nota's charms, and only 0.4 percent, of just 53,613 voters, pressed this button.
In Maharashtra, though, Ms Nota is the one going without any representation. A pity. She deserved better.
Don't miss the stories
followIndiaVision News & Information
and let's be smart!