Rahul's statement on Muzaffarnagar 'unnecessarily creates doubt over integrity of Muslims': SP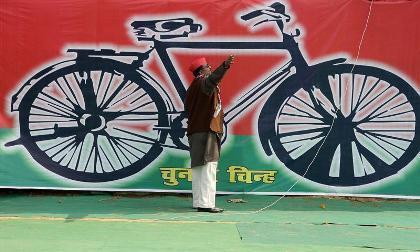 Is Modi running as BJP's PM for nation or village? : SP
New Delhi – Saying that Congress vice president Rahul Gandhi's disclosure that Muslim riot victims in Muzaffarnagar were being contacted by Pakistani agencies was unexpected, Samajwadi Party leader Kamal Faruqui on Friday said the remark has put unnecessary doubt over the integrity of Muslims in the country.
"Yesterday's statement of Mr. Rahul Gandhi is very unfortunate because it unnecessarily creates doubt over the integrity of the Muslims…. Anybody who does indulge in any kind of activity that effects the integrity of the community is very, very regrettable. I was not expecting these kinds of remarks from Mr. Rahul Gandhi," Faruqui said.
"The Muslims had enough reasons to be swayed away by the ISI or any other persons during the Babri Masjit demolitions and the riots after during 2002, and several hundreds of thousands of other riots. But the Muslims do have faith in the judicial system and the internal democratic system of the country. They love their country because they are born here and they have given all kinds of sacrifices for the freedom struggle. They have contributed to the might of the country," he added.
Faruqui also said he found it hard to trust the word of the police authorities that the Congress number two referred at his rally as the law enforcement agencies have themselves instigated the Muslim youth to partake in terror activities in the past.
Faruqui also questioned Rahul Gandhi's basis for having access to this information, as he was not the Home Minister, but only the vice president of a democratic political party.
Earlier on Thursday, while continuing with his claim that the Bharatiya Janata Party has been igniting communal fires across the country, Rahul Gandhi revealed at a rally in Indore that 10 to 15 Muslim boys, who lost their families in the recent riots in Muzaffarnagar, Uttar Pradesh, are being contacted by Pakistani intelligence agencies.
"Day before yesterday, a police officer came to my office. He told me that in Muzaffarnagar there are 10 to 15 Muslim boys, who have lost their brothers and sisters in the riots. He told me that people from the Pakistan intelligence agencies are starting to talk to surviving victims of Muzaffarnagar. The police officer told me that he is trying to dissuade the youth," Gandhi said in Indore.
Targetting the BJP, the Congress number two alleged that the opposition party is solely interested in gathering votes, while it is left to the ruling party to cool down the anger that survives in the aftermath of communal violence.
Violence broke out in the Kawal area of Muzaffarnagar on August 27, when members of a community returning from a panchayat meeting in Naglabadhod, three kilometres from Kawal, clashed with members of another community.
Don't miss the stories
followIndiaVision News & Information
and let's be smart!