SC restrains UP Police from acting against Taslima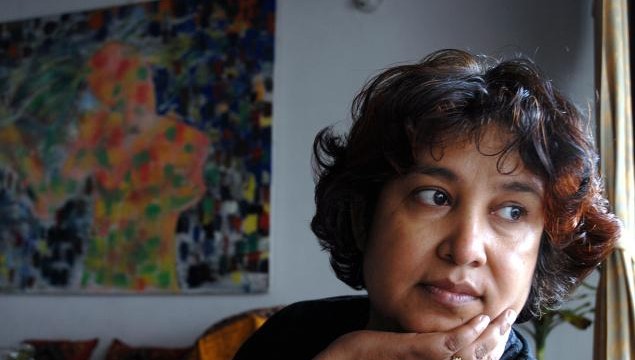 SC restrains UP Police from acting against Taslima
New Delhi – The Supreme Court Tuesday restrained Uttar Pradesh Police from taking any coercive step against self-exiled Bangladeshi writer Taslima Nasreen following her criticism of AAP! leader Arvind Kejriwal meeting cleric Maulana Tauqeer Raza Khan just before Delhi assembly polls.
A bench of Justice B.S. Chauhan and Justice S.A. Bobde also issued notice to UP Police on her plea to quash an FIR against her.
The court restrained the state police from moving against Nasreen after senior counsel K.K. Venugopal told the court that a critical tweet on a meeting between Kejriwal and Tauqeer Raza Khan cannot be construed as an offence under section 66(a) of the IT Act.
Venugopal, who appeared for the writer, said that police in Bareilly registered the FIR without carrying out the preliminary inquiry that is mandatory under the law.
The court was also told that there no provision for anticipatory bail in Uttar Pradesh.
It was informed that the writer was still under the threat of fatwa issued in 2007 by the cleric as the same has not been withdrawn till date.
The court also directed that Nasreen's plea challengin! g the validity of section 66(a) be tagged with an earlier petition pend! ing before the court that has questioned the constitutional validity of the provision.
An FIR was filed by UP Police on a complaint under the IT Act after Nasreen's controversial tweet criticising a meeting between Kejriwal and the cleric in November.
Nasreen, in her petition, has also sought the scrapping of section 66(a) which provides for punishment for sending offensive messages through communication services etc as "unconstitutional and void".
Describing the provision as draconian, she said that it "acts as an easy ready aid for such abuse of the legal process".
The Bangladesh writer said that she was "quite distressed and shocked by the registration of a criminal case against her and believes that criminal justice system was being abused to harass, intimidate and coerce her virtually giving up her right to express her views freely and without fear".
In her petition, she said that her tweet was in protest against Kejriwal meeting Maul! ana Tauqeer Raza Khan for support as the latter had issued fatwa against her for holding views advocating women's rights and in 2007 had announced a reward of Rs.5 lakh to anyone who would behead her.
She said that 2007 fatwa survives even today.
She said she wanted her displeasure known over Kejriwal meeting the cleric as it amounted to conferring legitimacy to Muslim cleric by the AAP leader who is perceived as a voice of civil society.
Don't miss the stories
followIndiaVision News & Information
and let's be smart!