Congress Vice-President Rahul Gandhi promises a national free medicine scheme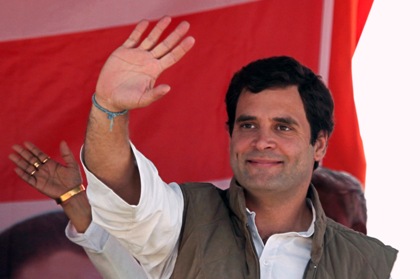 Rahul Gandhi promises a national free medicine scheme
Pushkar – Congress Vice-President Rahul Gandhi has said the UPA would implement nationally a free medicine scheme launched by his party's government in Rajasthan as he accused the BJP of being obsessed with building infrastructure and not caring enough about poor people.
Speaking at an election rally at Pushkar in Rajasthan on Monday, Gandhi, one of the star campaigners for his party, held up the free medicine scheme launched by the Ashok Gehlot administration in which a range of medicines are distributed free and sought to contrast that with the priorities of the BJP, which, according to him, was only interested in building roads and airports.
The free medicine scheme, which was launched in October 2011, provides generic drugs at no cost to patients at government health centres. The drugs are procured directly from pharmaceutical companies at lower than market prices. Gehlot expanded the scheme, billed as a trophy achievement of the state government and a major re-election plank, to cover free medical tests in the last budget presented in the state.
The Gandhi scion said while building infrastructure was important, it is more important to help the poor, repeating what has by now become a familiar theme in his speeches.
"BJP says 'build roads and airports, tear down the wall in front of them'. But we help the poor tear down the wall," the Congress vicepresident said before a gathering estimated by local police officials to number around 4000 people.
Accusing the BJP of being opposed to welfare schemes such as NREGA, Gandhi said: "BJP says NREGA is a waste of money, but (for those who sleep hungry) it is not enough to build roads and airports. BJP wants people to look at the sky and dream that their children will fly planes one day."
The Congress leader also said the BJP promoted a brand of divisive politics that he said was dangerous for the country. "BJP doesn't believe in harmony between communities," he said, and went on to accuse the main opposition party of spreading falsehoods about there being a lack of infrastructure development during the Congress' tenure.
"I looked at some statistics, we have built three times the number of roads built by NDA in five years," the Congress vice-president said. The Gehlot government in Rajasthan, Gandhi said, has added 7,200 megawatts of power capacity over a five-year period compared with 1,500 megawatts during the previous BJP administration headed by Vasundhara Raje.
"Delhi Mumbai industrial corridor which will pass through Rajasthan will involve an investment of Rs 300,000 crores," Gandhi said, adding that the refinery being built at Barmer will provide employment to up to 200,000 people.
Don't miss the stories
followIndiaVision India News & Information
and let's be smart!