Civilians recount `terrifying` attack on Myanmar aid convoy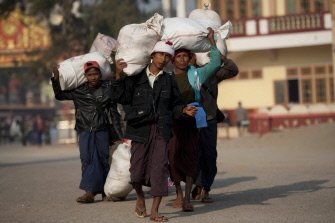 Lashio: Civilians fleeing bloody clashes between government troops and ethnic rebels in northeastern Myanmar on Wednesday described crouching in terror as a hail of bullets flew around them in an attack on a local aid convoy that wounded two people.Around a hundred people came under fire as they travelled in Myanmar Red Cross trucks in a desperate dash from their homes in Kokang region in Shan state, which has been consumed by deadly fighting between the army and ethnic minority rebels.
Myanmar has declared a state of emergency in the region in response to the conflict that has left dozens dead and caused tens of thousands to flee their homes, mainly across the border into China, sparking alarm in Beijing.
"It was a miracle we weren`t hit. We were crouched low in the truck. The driver was hit and there was so much blood," Maung Ying told AFP in the Shan town of Lashio after Tuesday`s attack on aid vehicles, which were marked with Red Cross flags.
"They were shooting from the mountains on both sides of the road. I thought I was going to die, bullets were passing just over our heads," he said, adding the broad daylight ordeal lasted for an hour.
The 35-year-old, looking weary but relieved as he prepared to travel onwards to Mandalay, said he had been working in a sugar cane plantation north of the region`s main town Laukkai, which has become the epicentre for fierce fighting since rebel attacks launched last week.
The convoy had passed the town and were heading further south when the assault happened, with dramatic pictures from the incident showing journalists who were travelling with the convoy helping to carry the wounded as they came under fire.
It was unclear who was responsible for the shooting.The convoy was organised by a local aid group separate to the better known International Committee of the Red Cross (ICRC).
The chief of Lashio police force, San Yu, told AFP that one person sustained a gunshot wound to the stomach, while another had suffered cuts to his eye from broken glass.
The attack was the latest to target civilians in the chaotic unrest, after a Lashio fire department official said another truck crammed with dozens of people fleeing the fighting came under fire Tuesday morning, killing one and leaving another injured.
On the Chinese side Beijing says it has stepped up border controls after some 30,000 fled into its Yunnan province.
Chinese foreign ministry spokeswoman Hua Chunying on Tuesday called on conflicting parties in Myanmar to "prevent the situation from escalating".
Clashes between the ethnically Chinese Kokang flared on February 9 following some six years of relative calm after a huge 2009 battle which saw the Myanmar army drive out rebel fighters.
That fighting saw some 30,000 people cross the border into China and earned the then junta government a rare admonishment from its giant northern neighbour.
Myanmar has been riddled with conflicts in its border regions since independence in 1948.
Last week the government, the army and several armed ethnic groups signed a commitment to deepen peace talks, agreeing to build a union with "federal principles".
But a much sought after nationwide ceasefire deal remains elusive as the country heads towards a breakthrough general election later this year.
The Kokang fighting has further undercut those attempts to forge peace and drawn in rebels from other nearby armed groups including the Ta`ang National Liberation Army and the powerful Kachin Independence Army.
Don't miss the stories
followIndiaVision India News & Information
and let's be smart!