Six-year-old girl dies, three children killed so far in Thai protests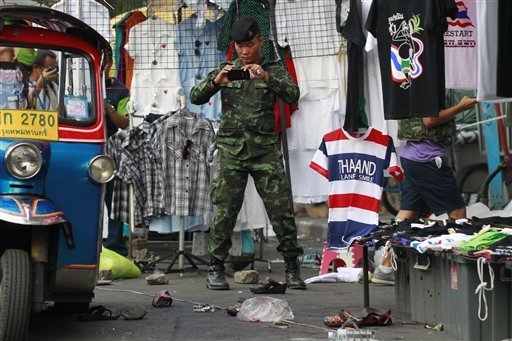 six-year-old Thai girl succumbed to her injuries on Monday, taking the number of children killed in attacks on anti-government rallies over the weekend to three. Premier Yingluck Shinawatra denounced the violence as "terrorist acts". Two children and a woman were killed and over 60 others injured when a blast and a drive-by shooting attack rocked protest rallies in a central Bangkok shopping district, marking an escalation in political crisis that has gripped the country for four months now.
A six-year-old girl has died from bruising to the brain, the Ramathibodi Hospital said in a statement. Her brother died on Sunday from serious head wounds and internal bleeding. The premier, who was "undertaking official duties" outside Bangkok, called on all sides to shun violence and described the violent incidents as "terrorist acts".
"The violent incidents are terrorist acts for political gain without any regard for human lives. The government will not tolerate terrorism and has ordered a full investigation by authorities to find the culprits and bring them to justice without exception," she said. Satit Wongnongtoey, leader of the anti-government People's Democratic Reform Committee (PDRC), claimed that the state is "backing" armed forces who attacked the protesters.
Last evening's bomb explosion took place near a big supermarket surrounded by bustling street stalls, hotels and one of the Bangkok's biggest shopping malls. A five-year-old girl was gunned down in the drive-by shooting in eastern Trat province late Saturday while a 40-year-old woman was the fourth casualty who died from severe injuries inflicted by a bomb blast over the weekend.
Defiant protesters today moved from their rally sites to different government offices to cut the pipelines feeding businesses of the Shinawatra clan, prompting authorities to step up security measures, but the powerful army said it would not intervene this time round. "Somebody has to take responsibility, but that doesn't mean soldiers can intervene without working under the framework (of the law)," army chief Prayuth Chan-ocha said in a rare televised address.
"How can we be sure that if we use soldiers, the situation will return to peace?" The attacks are the latest in political violence in Thailand, which is witnessing anti-government protests by opposition backed demonstrators who want Yingluck to quit.
Protest leader Phra Buddha Issara, a senior monk, and other PDRC activists gathered in front of a pro-government Voice TV station, which is owned by the son of Yingluck's fugitive brother Thaksin Shinawatra. Issara is a leader of the protesters who occupied the Government Complex on Chang Wattana road. UN chief Ban Ki-moon has condemned the yesterday's attacks.
Thailand has seen months of anti-government protests, often violent, aimed at ousting Yingluck and curbing the political dominance of the Shinawatra clan.
Don't miss the stories
followIndiaVision India News & Information
and let's be smart!