Tamil Nadu chief minister J Jayalalithaa called up her West Bengal counterpart Mamata Banerjee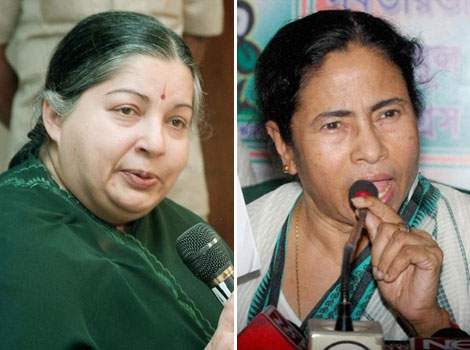 Kolkata: In the season of new political friendship, Tamil Nadu chief minister J Jayalalithaa called up her West Bengal counterpart Mamata Banerjee this morning and wished her luck for next month's general elections.
Two events on Thursday set up that phone call. Ms Banerjee said in a television interview that she would be happy to support Ms Jayalalithaa for prime minister. And Ms Jayalalithaa's alliance with the Left parties, Ms Banerjee's arch rivals, came apart.
As the big political parties, the Congress and the BJP, race across the country tying up partnerships with regional parties to shore up numbers before the elections, which begin on April 7, a number of regional powerhouses like Ms Jayalalithaa's AIADMK and Ms Banerjee's Trinamool Congress are calculating what it would take to ensure that a non-Congress, non-BJP government is installed at the Centre this May.
Ms Banerjee cannot support the Congress, with which she had a very acrimonious parting less than two years ago. She is emphatic that she will not support a BJP led by Narendra Modi.
But in more than one recent interview, the Bengal chief minister has suggested that she could work with Ms Jayalalithaa's AIADMK and Mayawati's BSP – she pointed that their parties have been partners at the Centre previously in the NDA government of Atal Bihari Vajpayee.
All the three powerful woman leaders, each contesting the general elections on her own, are said to nurse the ambition of being prime minister. Ms Banerjee said yesterday, "I have no problem. I don't bother (about) the chair, I care for the people." A day earlier, she said. "Why don't you get Mayawati, Jayalalithaa to come together? I have no problems with them."
The AIADMK's effort to participate in the attempt to bring together an alternative front of 11 parties has been at best half-hearted and no doubt impelled by its relationship with the Left which is mentoring the Third Front effort.
Ms Jayalalithaa did not attend the two meetings held in Delhi so far and had sent a representative, seen as a sign that she is keeping her options open.
Surveys and polls predict that Mr Modi's BJP is likely to be the single largest party in the elections, but is expected to fall short of the majority mark at 272 in the 545-member Lok Sabha. Parties like the AIADMK and the Trinamool Congress could then play a crucial role in government formation.
Don't miss the stories
followIndiaVision India News & Information
and let's be smart!