Tamil Nadu govt to release all 7 convicts in Rajiv gandhi assassination case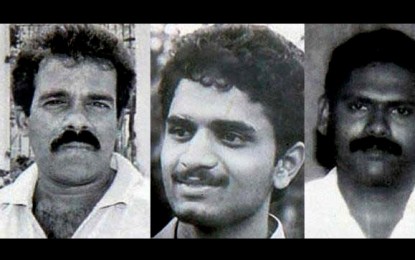 The Tamil Nadu government on Wednesday said it had decided to release all the seven convicts in the Rajiv Gandhi assassination case, including the three prisoners whose death penalty was reduced to life term by the Supreme Court on Tuesday.
Apart from the trio who were on death row until 24 hours earlier — Murugan, Santhan and Perarivalan — the benefit will go to Murugan's wife, Nalini, as well as Ravichandran, Robert Payas and V. Jayakumar, the others serving life terms since their arrest in 1991.
The Cabinet's decision was disclosed by Chief Minister Jayalalithaa in a suo motu statement in the State Assembly.
Ms. Jayalalithaa noted that while commuting the death sentence of the three prisoners, the Supreme Court had suggested that the State government could exercise its power under Sections 432 (power to remit sentences) and 433A (which deals with releasing of prisoners sentenced to death or life) of the Criminal Procedure Code. The State government has decided to invoke Section 432, considering the fact that they had already spent 23 years in jail.
Ms Jayalalithaa also said that as the case was investigated by the Central Bureau of Investigation, it was mandatory for the State government to consult the Centre under Section 435 of the CrPC.
"The state government will send the Cabinet's decision to the Centre. If the Centre fails to respond in three days, my government will release them immediately under the power conferred on it by the Constitution," the Chief Minister declared.
Ms Jayalalithaa said though the Tamil Nadu Assembly had adopted a resolution seeking commutation of the death sentence of Murugan, Santhan and Perarivalan, the Centre had not taken any decision on it for the last two and half years.
"Even though the DMK was part of the Congress-led UPA, it did not press the Centre to take a decision," she alleged.
The Designated Court had in January 1998 sentenced all 26 available accused to death, but on appeal, the Supreme Court confirmed the conviction of only 19 persons for being part of the conspiracy to assassinate Rajiv Gandhi. Of these, four were sentenced to death and three to life terms. In April 2000, the State Cabinet granted a reprieve to Nalini alone, and her sentence was reduced to life.
The other three serving life terms are Ravichandran, a youth from Tamil Nadu who formed a separatist group loyal to the Liberation Tigers of Tamil Eelam, Robert Payas and V. Jayakumar (both Sri Lankan Tamils).
Don't miss the stories
followIndiaVision India News & Information
and let's be smart!