India vs Australia, 4th Test: India's Ravichandran Ashwin has a ball, and bat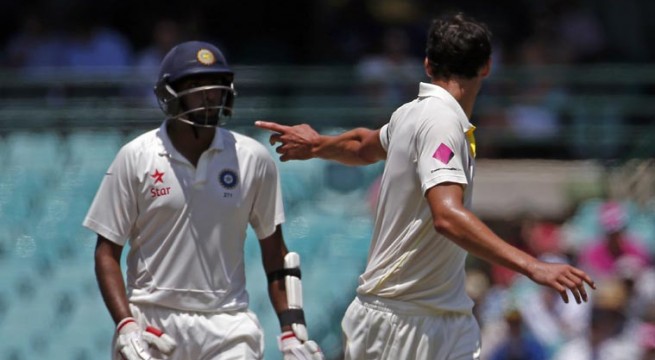 Cricket is often all about aesthetics. The dainty stance, the exquisite drive, the elegant pull, the pristine flick, the gazelle-like sprint on the outfield and a bowling action that can win you the moniker of Whispering Death like Michael Holding.
Yes, you'll have those who are ungainly yet effective. The bunch championed by the likes of MS Dhoni. But it's the attractive lot, in a cricketing sense that is, who leave a lasting and memorable impression. For, it's they who titillate the senses. Regardless of whether their exploits are limited to only brief spurts or not. Whether they are a Mark Waugh or a Dale Steyn, it's these pretty boys who capture imaginations and put bums on seats.
R Ashwin might not be in that same class as yet. But there's still something about the R Ashwin stance that screams out 'quality batsman'. This is not to say that he isn't one otherwise. With a Test average of 37.25 for his 1006 runs he qualifies as one anyway. But it's the aesthetics of his batting that dictate the argument that he's much more than an average Joe tail-ender batting at No.8. If anything he's a genuine batsman.
There's his upright form, his long feet and torso in perfect harmony, and perfectly balanced. Then there are the shots he plays, like the one he dished out first-up on Friday. A full ball from Ryan Harris drifting towards his pads that was gently caressed away to the square-leg fence. It was grace personified. Then came a stylish late-cut off Shane Watson. One leaden with class. As always, Ashwin seemed to have a lot of time on his hands, almost as if the ball was arriving towards him in super slow mo speed. He hit four more boundaries at the SCG in India's first innings. He also patted away a lot of deliveries with a sense of nonchalance on occasions despite the testing nature that the pitch had suddenly acquired. He finished with an even half-century, and was out caught behind. As always with these aesthetically-blessed batsmen, the outside-edge was nothing more than a feather. Rarely will you see one of them get out while attempting an ugly slash or hoick, almost like they don't mind perishing till the time it's done with a touch of class.
Ashwin faced 111 deliveries for his 50, his slowest innings in Test cricket — when it comes to his scores over 30. Till two Tests ago, the Tamil Nadu right-hander had now scored 413 Test runs at 51.62 with two fifties and one century whenever he had walked in with India not yet 200. Here, India were well past 300. But the situation demanded that Ashwin spend time at the crease, and give Australia less time to push on in their second innings. He did just that, even if it meant curbing his generally free-flowing approach.
Then it was time for him to bowl. And Virat Kohli threw him the new-ball. Strangely it was a rare occasion where a wicket-keeper was standing up to the stumps at both ends at the start of a Test innings on Australian soil. Ashwin struck right away, getting rid of his nemesis David Warner with a delivery that pitched on good length and spun sharply away from the left-hander.
Ironically enough, Ashwin the bowler is not as aesthetically blessed as his alter-ego with bat in hand. It's a tad rustic in fact with all the intense activity that takes place with his hands just before the point of delivery. And in the past, Ashwin has been accused incessantly of being restless as a spinner, hardly an indictment you could lay on his batting, which he goes about with the same nonchalance with which you would go about switching channels on your TV on a lazy Sunday afternoon.
His impatience with ball in hand was unfortunately a massive highlight of his previous tour Down Under. Too much variety, little rewards, they said. But it's been a different Ashwin who's turned up during the last three Tests this time around. Probably Ashwin the bowler has just taken a cue form Ashwin the batsman.
With the demons hidden under the SCG wicket suddenly emerging to the surface, all he had to do was to entice them by pitching the ball on the right spot. Which he did with unerring accuracy for most parts. Though Rogers did hit him for a few boundaries, Ashwin could have scalped the opener at least on half-a-dozen occasions before he finally got out after his sixth straight half-century.
Thrice he was beaten fending at balls that gripped, bounced and turned like the proverbial spitting cobras. Twice he came close to getting out to leading edges and once Ashwin had him mystified with carom ball that snuck through the gap and hit his pads.
Speaking of the carom ball, Ashwin hasn't used it much on this tour. He's kept it as a surprise weapon, unlike in 2011-12.
Guile and control
He's also bowled with more guile and control, preferring to be a stock option as well as an attacking one for his captains. The wickets-column hasn't really done justice to the control he's brought to proceedings so far. But he finished with four wickets at the SCG on the fourth day. After Warner, he had Watson bowled with a ball that snaked in and kept low before adding Shaun Marsh and Joe Burns to his kitty.
That took his tally to 12 wickets at 48.66, which might not obviously make for great reading. But they do give a sense of the incessant bowling he's done since being drafted into the side in Brisbane. If his dot-delivery percentage in the last tour was 67.8 it went up to 71.8 per cent on this occasion. It was the manner in which he put the lid on the aggressive Aussies that really stood out. Both at the Gabba and the MCG, it was Ashwin who ensured that the hosts had to fight that bit harder to post 500. At the MCG, he only gave away nine runs in his first 11 overs. But like was the case on Friday, there was little support from the other end. India were at the brightest whenever Ashwin and Ishant Sharma bowled in tandem. But as Steve Smith & Co got going on Friday, all hell broke loose at the SCG and the Indian seamers were taken apart, not clinically but brutally. Umesh Yadav ended up recording the most expensive three-over spell in Test history, conceding 45 runs with 10 of the 18 deliveries he bowled being hit for boundaries. And before long, Ashwin too wasn't spared the caning. Never before had an opposition scored at a rate higher than 6.27 in Tests involving Ashwin.
At the end of the day, Ashwin spoke about having been let down by the lack of control at the other end. He also agreed that the spate of wickets in his final spell of the Test series was justice to all the good work he'd put in till then, even if it might not have left as eye-catching an impression as his batting. Like always.
Don't miss the stories
followIndiaVision India News & Information
and let's be smart!