Making heavy weather of a small chase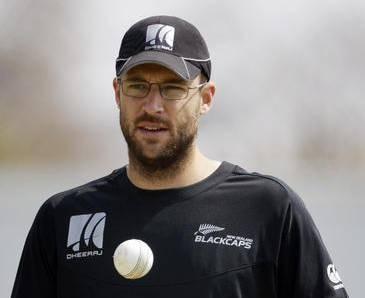 New Zealand narrowly avoided a major misstep, edging Scotland by three wickets in a low-scoring match on Tuesday to stay unbeaten after two games in Pool A.
Chasing Scotland's modest total of 142, New Zealand needed only half its allotted overs to reach the target but lost wickets at regular intervals in an undisciplined run chase and finished on 146-7.
"Credit to Scotland for the way they hung in there," New Zealand captain Brendon McCullum said. "Lesser teams would have rolled over there and credit to them for the way they hung in and managed to post a total which was always going to be a bit difficult on that surface.
"Really good performance with the ball and in the field, but we need to improve on our batting."
New Zealand's simple chase became a struggle, either through complacency or haste. The tournament co—host had looked comfortable at 63—2 when the late innings break was taken but bled wickets on the resumption.
Kane Williamson made 38 and Grant Elliott 29 for the Black Caps, who took an unbeaten side into the match after the opening win against Sri Lanka.
"It showed when we put the ball in the right areas we got rewards and (Josh Davey and Ian Wardlaw) bowled really well there towards the death," Scotland captain Preston Mommsen said. "Unfortunately, we couldn't pick up those extra three wickets but I was very proud of the fight at the end there. It showed character and I'm very proud of the first performance."
Scotland lost its top four batsmen inside the first five overs after being sent in, slumping to 4—12.
Trent Boult and Tim Southee both had early hat trick opportunities against a Scotland batting lineup that lost four men to golden ducks.
Matt Machan made a pugnacious 56 and Richie Berrington 50 in a 97—run partnership that rescued Scotland from a potentially embarrassing total.
Machan, the England—born Sussex batsman, seemed impervious to his team's position when he came to the wicket with two batsmen out and only nine balls bowled, and played his shots.
But both he and Berrington fell to poor shots before they were able to push the Scots toward 200, and they were all out in the 37th over. Corey Anderson took 3—18, including the wickets of Machan and Berrington, and Daniel Vettori 3—24.
With a small total to defend, Scotland's bowlers did not give up hope. Wardlaw dismissed Martin Guptill (17), dangerman McCullum (15) and Elliott to finish with 3—57 while Davey took 3—40.
McCullum was dropped on five and Corey Anderson on three and had those chances been taken Scotland might have sewn seeds of greater uncertainty among the New Zealand players.
Scotland had entered the tournament trying to demonstrate its ability to compete with cricket's top nations. While the Scots, now appearing at a third World Cup, have put in some creditable performances, they have now lost all nine matches played at this level.
New Zealand will face its biggest test thus far when it takes on England in its next match in Wellington on Friday, while Scotland faces the same opponent three days later in Christchurch. It will be the first time Scotland will play its southern neighbor at a World Cup.
Scoreboard
Scotland: K. Coetzer c Elliott b Southee 1 (10b); C. MacLeod lbw b Boult 0 (1b); H. Gardiner lbw b Boult 0 (1b); M. Machan c McCullum b Anderson 56 (79b, 7×4,1×6); P. Mommsen lbw b Southee 0 (1b); R. Berrington c Milne b Anderson 50 (80b, 4×4, 1×4); M. Cross c Ronchi b Anderson 14 (18b, 2×0); J. Davey (not out) 11 (19b, 1×4); R​ob Taylor st. Ronchi b Vettori 4 (6b); M​ajid Haq c Taylor b Vettori 0 (2b); I. Wardlaw lbw b Vettori 0 (1b); Extras (b-1, w-5) 6
Total (in 36.2 overs) 142
Fall of wickets: 1-1 (MacLeod), 2-1 (Gardiner), 3-12 (Coetzer), 4-12 (Mommsen), 5-109 (Machan), 6-117 (Berrington), 7-129 (Cross), 8-136 (Taylor), 9-142 (Haq).
New Zealand bowling: Southee 8-3-35-2, Boult 6-1-21-2, Milne 7-0-32-0, Vettori 8.2-1-24-3, Elliott 2-0-11-0, Anderson 5-1-18-3.
New Zealand: M. Guptill c Cross b Wardlaw 17 (14b, 4×4); B. McCullum c Cross b Wardlaw 15 (12b, 3×4); K. Williamson c Cross b Davey 38 (45b, 6×4); R. Taylor c Taylor b Haq 9 (14b, 1×4); G. Elliott c Cross b Wardlaw 29 (31b, 5×4); C. Anderson c Wardlaw b Davey 11 (16b, 1×4); L. Ronchi c Gardiner b Davey 12 (10b, 2×4); D. Vettori (not out) 8 (4b, 1×4); A. Milne (not out) 1 (3b). Extras (lb-1, w-5) 6
Total (for seven wkts in 24.5 overs) 146
Fall of wickets: 1-18 (Guptill), 2-48 (McCullum), 3-66 (Taylor), 4-106 (Williamson), 5-117 (Elliott), 6-133 (Anderson), 7-137 (Ronchi).
Scotland bowling: Wardlaw 9.5-0-57-3, Taylor 4-0-27-0, Davey 7-0-40-3, Haq 4-0-21-1
Toss: New Zealand
Man-of-the-match: Trent Boult
Numbers game
0 Scotland is yet to post a win after playing nine matches across three World Cups (1999, 2007 and 2015)
2 Richie Berrington's 50 and Matt Machan's 56 marked the first instance of two Scotland batsmen hitting a half-century in the same WC game.
4 In a World Cup first, four Scotland batsmen went for a golden duck
5 New Zealand has restricted an opponent to less than 150 five times with Scotland earning the dubious distinction twice!
Don't miss the stories
followIndiaVision India News & Information
and let's be smart!