Clashes Erupt as Liberia Sets an Ebola Quarantine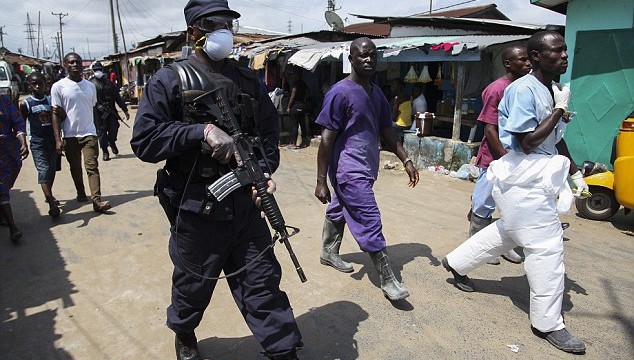 MONROVIA, Liberia — Soldiers and police officers in riot gear blocked the roads. Even the waterfront was cordoned off, with the coast guard stopping residents from setting out in canoes. The entire neighborhood, a sprawling slum with tens of thousands of people, awoke Wednesday morning to find that it was under strict quarantine in the government's halting fight against Ebola.
The reaction was swift and violent. Angry young men hurled rocks and stormed barbed-wire barricades, trying to break out. Soldiers repelled the surging crowd with live rounds, driving back hundreds of young men.
One teenager in the crowd, Shakie Kamara, 15, lay on the ground near the barricade, his right leg apparently wounded by a bullet from the melee. "Help me," he pleaded, barefoot and wearing a green Philadelphia Eagles T-shirt.
Continue reading the main story
Related Coverage
Relief Official Urges Groups to Step Up Ebola EffortsAUG. 19, 2014
Jattu Lahai, 26, in her room in Daru, Sierra Leone, after completing two weeks of successful treatment for the Ebola virus.
Daru Journal: Surviving Ebola, but Untouchable Back HomeAUG. 18, 2014
"This is messed up," said Lt. Col. Abraham Kromah, the head of operations for the national police, looking at the teenager and complaining about the crowd. "They injured one of my police officers. That's not cool. It's a group of criminals that did this. Look at this child. God in heaven help us."The clashes were a dangerous new chapter in West Africa's five-month-old fight against the deadliest Ebola outbreak on record. The virus continues to spread, yet the total number of cases reported in the affected nations — Guinea, Liberia, Nigeria and Sierra Leone — is already higher than in all other Ebola outbreaks combined since 1976, when the disease was first identified, the Centers for Disease Control and Prevention said Wednesday.
So far, the outbreak has mostly been concentrated in rural areas, but the disease has also spread to major cities like the Guinean capital Conakry, and especially here in Monrovia, the Liberian capital. Fighting Ebola in an urban area — particularly in a neighborhood like this one, known as West Point, an extremely poor and often violent place that still bears deep scars from Liberia's 14 years of civil war — presents challenges that the government and international aid organizations have only started grappling with.
The risks that Ebola will spread quickly, and the difficulties in containing it, are multiplied in a dense urban environment, especially one where the health system has largely collapsed and residents appear increasingly distrustful of the government's approach to the crisis, experts say.
At least 1,350 people are estimated to have died in the current outbreak of Ebola, the first of its kind in West Africa. The deaths are rising most rapidly in Liberia, which now has the highest death toll, estimated to be at least 576.
"Being the first time to get this problem, they didn't know what they were dealing with," Dr. David Kaggwa, a Ugandan physician working for the World Health Organization here, said of the Liberian government. "They didn't know how to respond to it. By the time they realized, it was way out of control."
In a cholera ward at the John F. Kennedy Medical Center that he helped transform into an Ebola ward, Dr. Kaggwa said that his own nation's long history with Ebola was limited to rural outbreaks."This is our first experience in a capital city, and all the indications are that it spreads faster in a city because people are living closer together," he said.
Beyond the threat of Ebola itself, experts warn that there has been a broader collapse of the public health system here, resulting in a range of life-threatening illnesses and conditions that are being left untreated. Many hospitals closed after health workers died, and the facilities that remain open have become overwhelmed.
"The emergency within the emergency is the collapse of the health care system," said Dr. Joanne Liu, the president of Doctors Without Borders, who recently surveyed Liberia and other affected nations. "People don't have access to basic health care," she said, including malaria treatment for children, medical care for pregnant women and other common but essential needs.
Dr. Liu said that her team had come across six instances of pregnant women who had been wandering around Monrovia for hours, looking for a facility that could help deliver their babies. "They couldn't find one," she said. By the time her team had attended to the women, she added, the babies had died.
"All the health care facilities are basically closed in Monrovia," she added. "There may be some marginal activities, but basically there's nothing really working right now."
Sheldon Yett, the director in Liberia for Unicef, said the group had deployed volunteers to West Point and other poor areas to educate residents about Ebola. "The fact that it is really firmly entrenched now in the capital city makes it a real game changer for us," he said.Even before the government imposed a blanket quarantine on West Point — a strategy governments in the region are using in a desperate bid to contain the outbreak — the neighborhood was seething.
Last week, Health Ministry officials quietly turned a primary school in West Point into a holding center for Ebola patients without informing the residents. Over the weekend, hundreds of residents invaded the center, enraged that outsiders were also being transferred there. Their community, they believed, was becoming a dumping ground for Ebola patients. Residents stormed through, running off with a generator and supplies like mattresses, some soaked with the blood of patients who were believed to have Ebola.
"I can tell you they were uncountable," said Isaac Toe, 25, a hygienist who was working at the center at the time of the invasion. "The entire West Point community broke in — men, women, children, boys and girls."
Christiana Williams, 52, who lives behind the center, said that locals were bewildered when they learned that the neighborhood school had been turned overnight into an Ebola holding center. Through the weekend, she said she heard cries from inside the center.
" 'We're not eating,' " Ms. Williams recalled hearing. " 'They're just spraying us.' 'We're getting weak.' "About 17 patients who were thought to have Ebola left the center for a couple of days before they were brought to the John F. Kennedy Medical Center here, raising concerns that the disease would continue to spread.
Continue reading the main story Continue reading the main story
"There's enough blame to go around," said Lewis Brown, the information minister, acknowledging that the residents were caught by surprise.Health officials had no choice but to transfer patients from outside West Point to the holding center because it was the only one of its kind in the city, Mr. Brown said, adding that the government is planning to open similar centers elsewhere.
On Tuesday, hours before the quarantine was declared, community leaders said that despite improvements since the end of the war in 2003 — the creation of public toilets, the paving of the main road — West Point remained a crucible for Liberia's postwar problems. Crime keeps rising, and so has the use of crack cocaine, called coco or Italian White.
Sprawling across a peninsula just north of the city center, much of West Point is made up of shanties separated by alleys wide enough for only one person. After the war, its population swelled as rural Liberians gravitated here looking for work. Anywhere from 60,000 to 120,000 people are believed to live in West Point.
A deep distrust of the government has fueled rumors that the authorities have made up the Ebola crisis to squeeze money out of international donors.
"We have a lot of Doubting Thomases," Philip Bropleh, 45, an electrician and community leader, said of people, including politicians, who have said that the government has invented the crisis. "Because of all these things, it allowed Ebola to run into Monrovia."
On Tuesday night, after most people had gone to sleep, President Ellen Johnson Sirleaf announced the imposition of the quarantine in West Point as well as a nationwide curfew. Early Wednesday morning, crowds tried to break through the barricade near an electrical station.
Don't miss the stories
followIndiaVision News & Information
and let's be smart!