Winter storm wreaking havoc along the East Coast after slamming South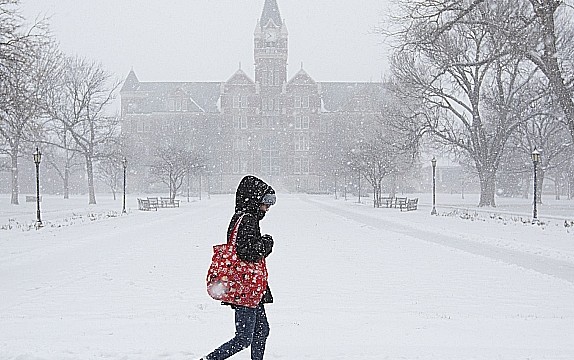 Winter storm wreaking havoc along the East Coast after slamming South
A winter storm that dumped snow, ice and forced the cancellations of thousands of flights in the Deep South Wednesday is now wreaking similar havoc along the East Coast.
At least 21 deaths were blamed on the storm that created hazardous commuting conditions. In New York, a 36-year-old pregnant woman was struck by a plow and killed, the NYPD confirmed to Fox News. Authorities rushed her to a hospital in Brooklyn where staff are attending to the unborn child.
In New York City, the decision was made to open schools despite messy conditions on streets. New York City Department of Education Chancellor Carmen Farina said "it's a beautiful day out there," during a morning news conference, according to the New York Post.
But the department's decision to keep schools open brought a sharp response from Michael Mulgrew, president of the United Federation of Teachers.
"Having students, parents and staff traveling in these conditions was unwarranted," Mulgrew said.
As Southerners did a day earlier, many in Washington heeded warnings to stay off the roads where at least 11 inches of snow had fallen. Federal offices and the city's two main airports were closed.
Baltimore awoke to 15 inches of snow Thursday, and Philadelphia had nearly 9 inches, making it the fourth 6-inch snowstorm of the season — the first time that has happened in the city's history. Harrisburg, Pa., had at least 8 inches.
About 1.2 million homes and businesses lost power as the storm moved from the South through the Northeast. By Thursday evening, about 550,000 customers remained in the dark, mostly in South Carolina and Georgia.
"While a change to rain can occur along some of the I-95 cities and most areas along the coast, this will be a major storm throughout the corridor with enough snow to make for slippery roads and difficult travel," said Accuweather Chief Meteorologist Elliot Abrams,
As Robert Johnson of suburban Pelham, N.Y., waited on a slippery platform for the 8:32 a.m. train to Grand Central Terminal, he said, "I heard a guy mention Puerto Rico — blue water, pina coladas. It sounded good to me."
At Falls Church Florist in Virginia, owner Mike Flood had his drivers out making residential deliveries despite the snow, scrambling to fulfill 1,000 Valentine's orders over the next two days.
"It's a God-awful thing," he said. "We're going to lose money, there's no doubt about it."
Some roads remained clogged with the vehicles on Thursday morning after drivers abandoned them Wednesday. City crews were working to tow the vehicles to safe areas where their owners could recover them.
On Thursday morning, a truck driver in Ashburn, Va., working to clear snowy roads died. State police say he had pulled off the road and was standing behind his vehicle when he was hit by another dump truck.
Three people were also killed when an ambulance careened off an icy West Texas road and caught fire. On Tuesday, four people died in weather-related traffic accidents in North Texas, including a Dallas firefighter who was knocked from an I-20 ramp and fell 50 feet. In Mississippi, two traffic deaths were reported as well as in North Carolina.
In Georgia, a man apparently died of hypothermia after spending hours outside during the storm, a coroner said.
State troopers say they worked more than 200 crashes in Georgia.
In South Carolina, more accustomed to occasional hurricanes, some could only relate the damage from ice-snapped tree limbs to that of bygone Hurricane Hugo. Even normally balmy Myrtle Beach, where millions of visitors cavort each summer, cars were coated in thick ice that also frosted palm trees and kiddie rides by the shore.
As he did for parts of Georgia, President Barack Obama declared a disaster in South Carolina, opening the way for federal aid.
For the Mid-Atlantic and the Northeast, the heavy weather was the latest in an unending drumbeat of storms that have depleted cities' salt supplies and caused school systems to run out of snow days.
In Atlanta, which was caught badly unprepared by the last storm, schools announced even before the first drop of sleet fell that they would be closed. Many businesses in the corporate capital of the South shut down, too.
The scene was markedly different from the one Jan. 28, when thousands of children were stranded all night in schools by less than 3 inches of snow and countless drivers abandoned their cars after getting stuck in bumper-to-bumper traffic for hours and hours.
North Carolina Gov. Pat McCrory urged people to charge their cellphones and find batteries for radios and flashlights because the storm could bring nearly a foot of snow in places such as Charlotte.
"Stay smart. Don't put your stupid hat on at this point in time. Protect yourself. Protect your family. Protect your neighbors," McCrory said.
The procession of storms and cold blasts — blamed in part on a kink in the jet stream, the high-altitude air currents that dictate weather — has cut into retail sales across the U.S., the Commerce Department reported Thursday. Sales dipped 0.4 percent in January.
Don't miss the stories
followIndiaVision India News & Information
and let's be smart!