Two killed as volcano erupts in Indonesia; airports closed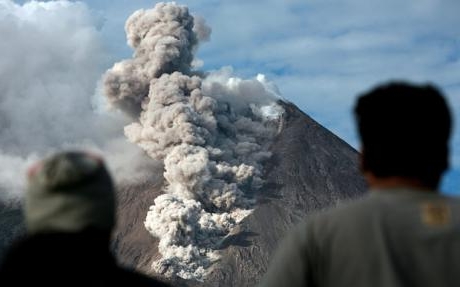 Jakarta – A volcano erupted late on Thursday night on the heavily populated Indonesian island of Java, sending a huge plume of ash and sand 17 km (10 miles) into the air and forcing the closure of three airports.
Two people were crushed to death after the volcanic eruption blanketed rooftops with rocks and ash, causing homes to cave in, an official said Friday.
The man and woman in their 60s were killed in two separate homes in the sub-district of Malang on the main island of Java, where Mount Kelud spectacularly erupted Thursday night.
Mount Kelud is 140 km south of Indonesia's second biggest city Surabaya, a major industrial centre.
The cloud from the eruption was seen as far as 9 km to the west, and forced the shutdown of airports at Surabaya and the cities of Yogyakarta and Solo.
"Areas to the west of Mount Kelud, including central Java, Yogyakarta, Cilacap, Magelang, Temanggung and Boyolali are still experiencing showers of ash because last night the biggest eruption … threw sand and ash 17 km into the air to the west," National Disaster Mitigation Agency spokesman Sutopo Nugroho said by telephone.
Cilacap is home to a major oil refinery, but there was no immediate word on whether its operations had been affected. Its refineries supply about a third of the country's fuel needs.
The agency later said the cloud was dissipating and that the volcano was no longer erupting.
"We don't have data yet on how many people have been evacuated in total. We can say 200,000 people were affected," Sutopo said.
The eruption caused minimal damage to buildings, Sutopo said, but had left 3 to 5 cm (1 1/2 to 2 inches) of ash and sand on roads.
An estimated 200,000 people live within a 10 km radius of Mt Kelud, one of nearly 130 active volcanoes in the world's fourth most populous country.
At least 11 people were killied earler this month in the north of the island of Sumatra when Mount Sinabung erupted. The volcano has been spewing lava and ash for months, forcing thousands to flee the area and destroying crops.
President Susilo Bambang Yudhoyono wrote in a message on Twitter that he planned to visit the area near Kelud.
Don't miss the stories
followIndiaVision India News & Information
and let's be smart!