Confusion on Netaji's death, snooping on kin: What Bengal files say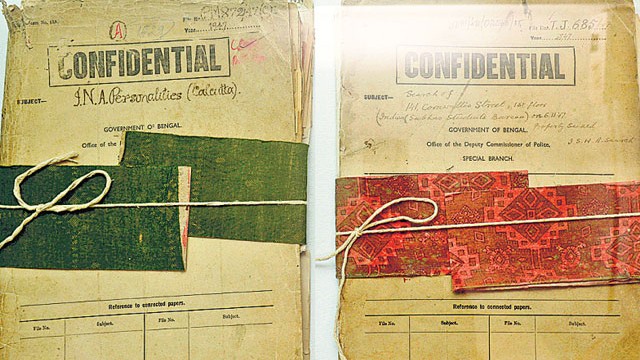 The West Bengal government declassified 64 closely-guarded files on Netaji Subhas Chandra Bose at a low-key event at a police museum in Kolkata on Friday.
The firebrand freedom fighter may have survived a purported air crash in 1945 and his family was under widespread surveillance after Independence, the files made public by the Trinamool Congress dispensation indicated.
Bose, the leader of the Azad Hind Fauj (Indian National Army), is said to have died on August 18, 1945 at Taihoku in Taiwan in a plane crash.
The 12,744-page dossier showed several people writing to members of Bose's family saying they were told the freedom fighter was alive but experts said the documents — thrown open for public viewing at the Kolkata Police Museum — contained no conclusive proof.A reading of the declassified files by HT showed that Swiss journalist Lilly Abegg wrote to Netaji's brother Sarat Bose on December 9, 1949, saying she was told by Japanese sources that the freedom fighter was alive in 1946.
And on March 5, 1948, Chou HriangKuang — an officer of the publication division of the Union information and broadcasting ministry — wrote to Netaji's nephew Amiya Nath Bose, saying, "I am still believing he is alive."
Fuelling speculation, Bengal chief minister Mamata Banerjee added said she believed Bose didn't die in the 1945 crash and urged the Centre to declassify all Netaji-related files. "I have gone through a few pages and it indicates Netaji was alive after August 1945,'' she said.
The firebrand Bose was one of the tallest leaders of the freedom movement but left the Congress following differences with Mahatma Gandhi. He then escaped from India in 1941, travelling to Germany and Japan, where he strengthened the Indian National Army to free India from the British.
His sudden disappearance after 1945 has fanned several conspiracy theories over the years, especially in West Bengal, where he is seen as a hero amid simmering discontent over supposed hostile behaviour by the Centre.
A fact that is certain is: anyone connected with Subhas Chandra Bose was under intense surveillance from both central and state intelligence agencies even after 1947. They include Bose family members, former members if Netaji's Indian National Army and even the Chinese community in Kolkata.
Almost all the files declassified Friday contain enough evidences of the surveillance that was carried on till as late as 1968, a good 23 years after Bose's purported death and 21 years after Independence.
In a revealing letter on March 29, 1968, the police super, CID, SB (Delhi) wrote to the deputy inspector-general of police, IB (West Bengal): "Kindly arrange to supply up to date note on the activities of Shri Amiya Nath Bose giving his personal particulars and political proclivities, if any, for the completion of his office records."
A potentially crucial file that could have unraveled the mystery behind the disappearance of Bose was destroyed in 1972 when Siddhartha Shankar Ray was the West Bengal CM, the freedomfighter's grandnephew said.
"We (have) found that there was a file which was destroyed in 1972 when Siddhartha Shankar Ray was the CM. The first page contains the file number. We believe this file relates to the disappearance angle of Subhas Chandra Bose. It was destroyed," Chandra Bose said.
Don't miss the stories
followIndiaVision India News & Information
and let's be smart!