Face Of Patel Reservation Movement, Hardik Patel Goes Missing After Organising A Meeting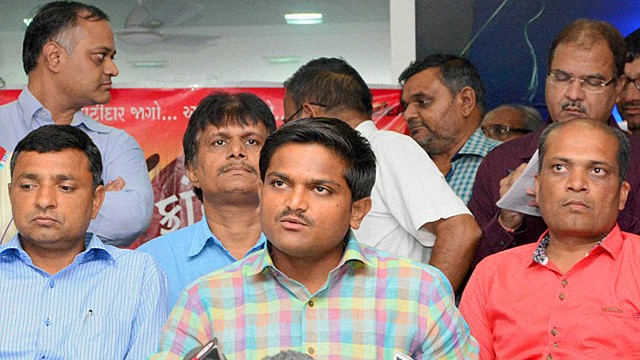 The face of the Patel agitation, Hardik Patel, spearheading the Patel reservation movement in Gujarat, gave the police a slip when they tried to detain him for organising a public meeting without prior permission, at a village in Aravalli district. After Hardik addressed the meeting at Tenpur village, the police tried to detain him but he fled in a vehicle, a senior police officer said. "Hardik held a public meeting in Tenpur village in Bayad taluka without taking prior permission. As we came to know about it, our police team went there to detain him but he ran away from there to evade detention," Inspector General of Police Hasmmukh Patel told reporters.
After the incident, police have put up barricades on roads in Gandhiangar, Sabarkantha and Aravalli districts and intensified combing operation in the region to detain him, the IG said, adding that Hardik may be detained "We did not arrest him during the meeting because we did not wish to create a friction with local people present there," the officer said. Elaborating on the incident, the IG said that "after the meeting, we intercepted their (Hardik's supporters) four vehicles outside the village, but two of the vehicles took a U-turn and managed to flee. Hardik was in one of them."
The officer said the police have cordoned off the areas surrounding the place to detain the Patel leader. "He (Hardik) is running here and there," he added. "We have the information that he is trying to run here and there from villages in Aravalli or neighbouring Sabarkantha district. He has been running here and there to evade his arrest," the officer said.
He said Hardik will be booked for illegally holding the meeting. "He (Hardik) will be detained for holding the public gathering illegally without taking prior permission," the IG said. Patidar Anamat Andolan Samiti (PAAS) member Ketan Patel said he was not aware about Hardik's whereabouts.
"The police first chased us from public meeting and after some distance a police vehicle intercepted one of our vehicles. But we some how ran away..I don't know the status of Hardik and others as to where they are right now," he said. Meanwhile, Hardik's close aide Chirag Patel said PAAS had applied for permission for the gathering but it was denied by the police.
"This is murder of democracy as we are not allowed to hold a peaceful public meeting for those who have died in recent violence," Chirag added. Hardik was arrested on September 19, in Surat city, when he tried to take out 'Ekta Yatra' without obtaining permission. He was later released on bail by a court. The crime branch tonight nabbed Hardik's close aides Chirag Patel, Atul Patel and Nilesh Advadia from Shahibaugh area of Ahmedabad ahead of their press conference.
Crime branch sleuths, along with Assistant Commissioner of Police KN Patel, took them to police headquarters at Shahibaugh area from where they are likely to be handed over to Aravalli police. They were part of Hardik's team which had organised the public meeting at Tenpur village under Ambaliyara police station limits in Aravalli district without permission, police said.
Aravalli police have registered an FIR against Hardik and 20 other Patel leaders for organising the meeting. "We have registered an FIR under Section 188 (disobedience to order duly promulgated by public servant) of IPC against Hardik and 20 others for holding the public meeting at the village without taking permission from police," said Aravalli SP Mayur Chavda.
He said police also arrested 15 supporters of Hardik in the village. Chavda said Hardik still remains untraceable. Police also arrested another two aides of Hardik — convener of Patidar Anamat Andolan Samiti (PAAS) in Surat — Alpesh Kathiria, and on Dinesh Bambhania for breaching peace and tranquillity, an official said.
Surat city police commissioner Rakesh Asthana told reporters that Kathiria received some provocative and objectionable message from his colleague Bambhania. In that message, Bambhania allegedly told Kathiria to resort to violence in Surat, the commissioner said, adding that police arrested them as a precautionary step.
Don't miss the stories
followIndiaVision India News & Information
and let's be smart!