Why Major Nitin Gogoi is a real hero for the entire country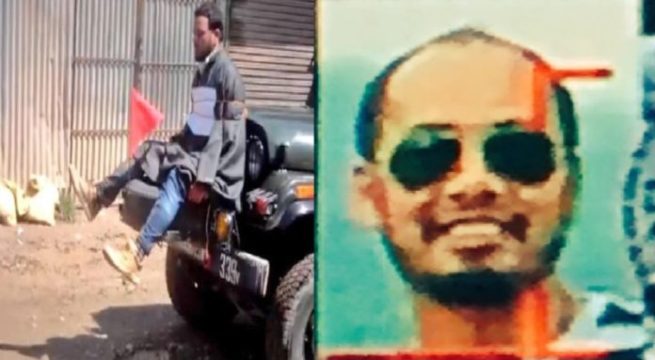 What cannot be overlooked is that the 'out of box' solution put in force by Major Gogoi saved the lives of his men, EC officials as well as stone pelters without firing a single bullet.
When the news of Indian Army Chief General Bipin Rawat awarding Major Nitin Leetul Gogoi a commendation card for his 'sustained efforts' on counter-insurgency operations was flashed in the media on Monday, the country witnessed divergent, at times diagonally opposite, views on General Rawat's decision.
Major Nitin Gogoi, the young officer of Rashtriya Rifles, hogged media limelight on April 9 when he tied a Kashmiri youth to an Army jeep and used him as a 'human shield' to protect the lives of his men as well as Election Commission officials from a violent mob of stone pelters during polling for the Srinagar Lok Sabha by-election.
While an overwhelming majority of Indians lauded Major Nitin Gogoi for coming out with an 'out of box' solution for tackling a situation which could have otherwise resulted in death of numerous people, a section of people raised questions over the wisdom as well as morality over using a 'human shield' to handle a situation, irrespective of how difficult it is.
However, those questioning the rationale behind using the Kashmiri youth as a human shield , are forgetting the fact that extraordinary situations call for tough decisions which are different from traditional methods.
What cannot be overlooked is that the 'out of box' solution put in force by Major Gogoi saved the lives of his men as well as EC officials who were being threatened by a mob of around 900 stone pelters and Major Gogoi succeeded in his objective without firing a single bullet.
Not a single life was lost despite the situation being so difficult and it became possible because Major Gogoi applied 'presence of mind' and came up with a solution which is not part of traditional military training.
Let's also not forget that had Major Gogoi ordered his troops to open fire, many stone pelters would have died and things would have gone completely out of control.
We should also understand that traditional methods cannot be applied in case of an asymmetric warfare which the nation has been subjected to in the state of Jammu and Kashmir.
The question of morality and ethics becomes irrelevant  in an unconventional warfare especially when those challenging the unity and integrity of the country are being funded by Pakistan which is hell bent on exploiting religious sentiments of the people of Jammu and Kashmir.
No one can deny that perhaps hundreds of tear gas shells would not have achieved what one 'human shield' of Major Gogoi achieved without even hurting a single person.
Yes, there are valid questions over the fundamental rights of the youth who was tied to the jeep. However, one must understand that when a nation is at war, for all practical purposes,  certain compromises become necessary because the larger objective takes precedence over all other considerations.
Concerns over the international ramification of using the 'human shield' are also valid to a certain extent. However, there are examples galore of many nations, including United States, deviating from the set standards in the name of fighting terrorism.
And India is fighting terrorism in Jammu and Kashmir for last three decades and it can't be faulted for deviating from Standard Operation Procedures (SOPs) once in a while for tackling a difficult situation.
It won't be wrong to say that Major Gogoi's decision to use the ' 'human shield'  for saving EC officials was a step taken to save democracy.
Interestingly, the demand for a distinguished service medal for Major Nitin Gogoi was made by senior Congress leader and Congress Chief Minister Captain Amarinder Singh a few days back.
"Some feel I have gone too far in actually demanding a distinguished services medal for the daring officer. Is that so? Does an army officer not deserve a reward for saving lives? Or is it the destiny of all army personnel to sacrifice their lives, if not to the enemy at the border, then at the hands of the very civilians they are designated to protect?" Captain Amarinder Singh wrote in The Indian Express while defending his decision to demand a medal for Major Gogoi.
The Punjab Chief Minister went to the extent of saying that peace is possible in Jammu and Kashmir only if the Indian Army gets the freedom to negotiate it on terms that are favourable to the country.
"Peace, in my opinion, is only possible if the government writ runs large, which, naturally, also means that the Indian Army should have an upper hand to be able to negotiate peace on terms that are favourable to the country and in the interest of its people, including our brave jawans. This holds good for a volatile state like Jammu and Kashmir, and also for dealing with border conflicts, such as the Indo-Pak border situation.," he added.
It goes without saying that every institution including Indian Army should not deviate from the set SoPs. However, we should also be ready for some unconventional solutions for complex situations that exist in states like Jammu and Kashmir.
Major Nitin Gogoi is a real hero not only for Indian Army but the entire country because he applied his mind and came up with a solution that saved lives of his men, EC officials as well as stone pelters without firing a bullet, a pellet or a tear gas shell.
Indian Army, undoubtedly, needs more and more officers like Major Nitin Gogoi.
Don't miss the stories
followIndiaVision India News & Information
and let's be smart!