Sachin Tendulkar's Last 200th Test Live Match: India vs West Indies, Day 1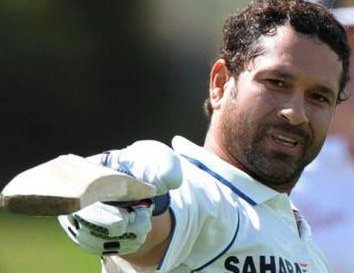 Sachin Tendulkar's Last 200th Test: India vs West Indies, Day 1

INDIA OVERS: 15 II SCORE: 85/2
Gabriel is back. Facing him is Pujara. His first is short of length delivery and Pujara cuts it for four. He drives the third delivery through covers for his second boundary. Eight runs from the over.
————————————————————————————————————————————————————-
INDIA OVERS: 14 II SCORE: 77/2
OUT! And Murali Vijay has to depart for he has been caught by Sammy at leg gully! The umpire checks for the no ball and it's alright. Vijay scored 43 (55b, 4X8). He becomes Shillingford's second wicket. And amidst loud cheer walks the arguably greatest batsman in cricket's history Sachin Tendulkar! West Indies team including both the umpires offer him a guard of honour.
————————————————————————————————————————————————————-
INDIA OVERS: 13.2 II SCORE: 77/1
The 11th over, bowled by Best, turned out to be a productive one for India as in it Dhawan struck three boundaries. The first a drive through covers, the next a pull to deep backward square leg while the third came to deep midwicket fence. The next, by Shillingford resulted in five singles. Vijay scored a boundary off the sixth delivery of the 13th over for his eighth four. OUT! And Dhawan departs after being caught by Chanderpaul at deep square leg region. Shillingford provides the first breakthrough for West Indies. He scored 33 (28b, 4X7). Dhawan went for the sweep but couldn't connect the shot properly. Chesteshwar Pujara is the new man in the middle.
————————————————————————————————————————————————————-
INDIA OVERS: 10 II SCORE: 52/0
Gabriel continues. Vijay strikes two consecutive boundaries off his second and third delivery. The first one was a result of a thick edge that went past gully region while the next was played through mid-on region. Nine runs from the over. Sammy's next resulted in just one. Spin in Shane Shillingford introduced into the attack by Sammy. Vijay collects two boundaries off his first and last delivery. The first one past point region while the second struck through extra cover. Tino Best into the attack now. Two runs from his first over. Shillingford continues from the other end and Vijay sweeps his second delivery to midwicket fence for seventh boundary. That also took the Indian score past 50-run mark.
====================================================================================
INDIA OVERS: 5 II SCORE: 28/0
Sammy's second over saw Dhawan collecting back-to-back boundaries off the fifth and sixth deliveries. The first one came past gully as he opened the face of his bat while the next past the bowler. Gabriel allowed just one in his next and that too thanks to a no ball. The fifth over began with a boundary to Dhawan past point. A misfield by Powell at point resulted in another boundary to Dhawan off the third delivery. 10 runs from the over.
————————————————————————————————————————————————————-
INDIA OVERS: 2 II SCORE: 9/0
Darren Sammy with the new ball and his first over results in just one run for India. Shannon Gabriel joins him from the other end. He deliveries a half-volley first up and Vijay handsomely drives it to sweeper cover for his first boundary. The sixth delivery is also a half-volley and Vijay this time plays it through extra cover region for his second boundary. Eight runs from the over.
————————————————————————————————————————————————————-
Indian openers Shikhar Dhawan and Murali Vijay are in the middle. From West Indies, Darren Sammy will start the proceedings. The crowd expects a strong reply from India but more than that they will be hoping to see Sachin Tendulkar bat. West Indies once again collapsed after being in a comfortable position before lunch today.
————————————————————————————————————————————————————-
WEST INDIES OVERS: 55.2 II SCORE: 182/10
OUT! Gabriel has been stumped by MS Dhoni becoming Ojha's fifth victim of the innings. West Indies have been folded for 182 in their first innings today. This has been a top show by Indian bowlers led by their two spinners – Ojha and Ashwin. Tea has been taken. We will return with live updates on Indian batting.
————————————————————————————————————————————————————-
WEST INDIES OVERS: 52 II SCORE: 172/9
OUT! Best departs after attempting a sweep. That was full on the off from Ojha and Best attempted a sweep. He ended up edging it to wicketkeeper Dhoni who gobbled it safely after it bounced off his thigh. Best departs for a duck. Off the sixth delivery of the previous over (51st), Ramdin was dropped by Vijay at slips after the right-hander got an edge. That went for a boundary.
————————————————————————————————————————————————————-
WEST INDIES OVERS: 50 II SCORE: 162/8
OUT! Another one bites the dust! Shane Shillingford has been trapped by Ojha off his sixth delivery of the 50th over. He goes back for a duck. The West Indies team is crumbling. Tino Best is the new man in the middle.
————————————————————————————————————————————————————-
WEST INDIES OVERS: 49 II SCORE: 162/7
One run came from the 46th over while the next was a maiden. Ojha introduced from the other end. Spin from both ends in operation now. Off the 49th came nine runs including a six over long-on by Deonarine off the second delivery. He followed that with a couple and a single. OUT! A superb catch by Murali Vijay at second slip ends Deonarine's stay at the crease! Ashwin pitches one on the off stump and Deonarine came forward to defend it back. He ended up with a thick outside edge. He departs after scoring 21 (24b, 4X1, 6X1). West Indies captain Darren Sammy comes to the middle. OUT! And Sammy is gone! An awful shot to throw away his wicket. Absolutely unnecessary! The sixth delivery from Ashwin was tossed up and Sammy went for a big shot over midwicket. He top edged it to Rohit Sharma at square leg. He goes back for duck. He becomes Ashwin's 100th Test victim.
————————————————————————————————————————————————————-
WEST INDIES OVERS: 45 II SCORE: 152/5
Deonarine slog swept Ashwin's second delivery over mid-wicket fence for his first boundary. DROPPED! Kohli at second slip dropped Deonarine after the batsman got a thick outside edge. He dived but couldn't hold on to it. Four runs from the over.
====================================================================================
WEST INDIES OVERS: 44 II SCORE: 148/5
42nd and 43rd over resulted in two runs – one in each. OUT! Bhuvneshwar Kumar strikes! Gets his first victim of the innings in Shivnarine Chanderpaul. Kumar's penultimate is a cracker of a delivery as it shapes away from the southpaw who ends up edging it to Ashwin at first slip. He scored 25 (34b, 4X2, 6X1). Densesh Ramdin is the new man in the middle.
————————————————————————————————————————————————————-
WEST INDIES OVERS: 41 II SCORE: 141/4
OUT! West Indies have lost their fourth wicket in Marlon Samuels! Ojha gets his second wicket after Samuels edged a flighted one from him to Murali Vijay at slips. He scored 19 (59b, 4X3). Narsingh Deonarine is the next man in. Two runs and a wicket from the over.
————————————————————————————————————————————————————-
WEST INDIES OVERS: 40 II SCORE: 139/3
The 36th over by Shami was turning out to be a tidy one before Samuels unleashed a straight drive past the bowler for his`second boundary. The next by Ojha resulted in three runs. Bhuvneswhar Kumar was brought back into the attack and Chanderpaul edged his second delivery past slips for four. Five runs from the over. Ojha continues. Two runs from 39th over. Samuels scored a boundary through covers.
————————————————————————————————————————————————————-
WEST INDIES OVERS: 35 II SCORE: 119/3
Shami continues from the other end and bowls a maiden. Ojha's next results in a single. Shami's sixth of the 34th over is full and in the spot for Samuels to drive through extra cover for a boundary. Five runs came in it. Chanderpaul starts the next over with a boundary employing a sweep. Six runs came from it.
————————————————————————————————————————————————————-
WEST INDIES OVERS: 31 II SCORE: 107/3
The play has recommenced. Pragyan Ojha for the first time in this game starts the proceedings of the second session. Three runs from it. Pace in Shami from the other end. Just a single in it. OUT! Ojha strikes with the first ball of his second over removing set batsman Kieran Powell! It was a flighted delivery and Powell went for the flick but was caught by Shikhar Dhawan at forward short leg. He scored 48 (80b, 4X4, 6X1). In walks Shivnarine Chanderpaul who is playing in his 150th Test today. He gets off the mark off the second delivery he faces in style sending it over midwicket fence for a six. Samuels went for the aerial route but could only manage an inside edge that went behind point. He still manages a triple.
————————————————————————————————————————————————————-
WEST INDIES OVERS: 28 II SCORE: 93/2
Kumar's 12th and innings 26th over results in just a single. Off the sixth delivery of the next over, by Ashwin, Powell scores his fourth boundary to deep midwicket region. Six runs came from the over. Dhoni brings Shami back for a second spell. In fact, it will be the last over before lunch. It's a maiden.
————————————————————————————————————————————————————-
WEST INDIES OVERS: 25 II SCORE: 86/2
Ashwin gave some air to his third delivery of the 21st over and Bravo drove it ending up getting an outside edge that went past slip to third man region for a four. Five runs came from the over. Bravo got an inside edge off the sixth delivery of the 22nd over, bowled by Bhuvi, and it went to fine leg fence for a four. Powell began the next over by Ashwin brightly by lofting the first delivery over long-on boundary for a maximum. Seven runs came from it. The next resulted in just a single. OUT! Bravo has used all his lives today as he finally is caught by wicketkeeper Dhoni after getting an outside edge off the fourth delviery of the 25th over. He becomes Ashwin's first victim of the morning after being undone by turn and bounce. He scored 29 (63b, 4X5, 6X1). Marlon Samuels is the new man in the middle.
————————————————————————————————————————————————————-
WEST INDIES OVERS: 20 II SCORE: 64/1
The 16th, by Kumar and 17th, by Ashwin resulted in one run each. Dropped! And Ashwin drops a sitter at first slip in the 18th over! A good length delivery that was moving away from Bravo as he got an outside edge flying comfortably to Ashwin at slips. He wrongly judges the height and grasses it. Bravo chooses to not offer any shot off the fourth and fifth delivery and on both occasions gets hit on the pad. Both invited loud shouts of lbw but umpire turned them down. Bravo opens up in the 19th over and strikes a six and a four off consecutive deliveries from Ashwin. The six was deposited over covers while the boundary came through point region. 11 runs came from it. Powell helped the drifting delivery from Kumar in the 20th over to fine leg for an easy boundary. Four runs came in it.
————————————————————————————————————————————————————-
WEST INDIES OVERS: 15 II SCORE: 46/1
The 11th over, bowled by Bhuvneshwar resulted in only two leg byes. The fourth delivery of the next by Shami is pitched on good length, Bravo comes on front foot and drives it elegantly through covers for a boundary. Five runs from the over. Dhoni introduces spin in R Ashwin in the 13th over and Powell manages to score a single in it. The 14th results in a single and umpires call for drinks break. Aswhin continues after the brief interval and allows just one in his second over.
————————————————————————————————————————————————————-
WEST INDIES OVERS: 10 II SCORE: 36/1
Darren Bravo is the new man in the middle. Bhuvi comes round the wicket to Powell in the seventh over. Just a couple off the fifth delivery from the over. Shami continues and facing him is Bravo. And a cold welcome follows as Shami forces the southpaw to duck after pitching the first short. Bravo gets off the mark with a flick to long on boundary for his first four. Just four from the over. The ninth, by Bhuvi, is a maiden. Powell flicks the penultimate delivery of the 10th over, by Shami, to deep midwicket region for his second four. Five runs from it.
====================================================================================
WEST INDIES OVERS: 6 II SCORE: 25/1
OUT! India have an early wicket in dangerman Chris Gayle. Shami gives them their first wicket of the match as Gayle tentatively pushes a length delivery to Rohit Sharma at point pouching it safely. Gayle scored 11 (17b, 4X1). Three runs and a wicket from the over.
————————————————————————————————————————————————————-
WEST INDIES OVERS: 5 II SCORE: 22/0
Bhuvi continues. His third delivery is full and Powell drives it through mid off for the first boundary of the match. That is the only scoring shot he can manage off Bhuvi's six deliveries. Gayle chooses Shami's third delivery of the fourth over to score his first boundary through extra cover. A single off the penultimate delivery follows. There was an lbw shout off the first delivery of the over though. However, it was turned down as the ball contacted the edge of Gayle's bat before hitting the pad. The fifth over also began with a loud shout for lbw against Gayle but the ball hit him high on the pad. 4 leg byes followed. Eight runs from the over.
————————————————————————————————————————————————————-
WEST INDIES OVERS: 2 II SCORE: 5/0
Bhuvneshwar Kumar has the new ball. Facing him is Chris Gayle who is playing his 99th Test today. An inswinger to start with and what do you know! The ball is collected by Tendulkar at midwicket as Gayle flicks. He gets off the mark with a single. Now on strike is Powell. He plays his first through square region and gets off the mark with a couple. The next three result in no runs. Three runs from the first over. Mohd Shami to share the new ball. And the youngster is bang on the target. A full delivery that moves away from Gayle as he gets beaten. Gayle gets to the other end with a single off the second to point. Powell scamper for a single off the penultimate delivery while Gayle leaves the sixth safely for the keeper.
————————————————————————————————————————————————————-
Team India, led by their skipper MS Dhoni is in the field. A countdown on the big screen has begun before Sachin Tendulkar enters the park. A team huddle follows as the master finally makes appearance. This is an emotional moment for the team, the fans and cricket lovers in general. Dhoni asks Tendulkar to lead the team after a brief pep up talk. The crowd roars in approval. 10,9,8,7,6,5,4,3,2,1 and the big screen flashes SRT 200! Tendulkar puts on his shades. West Indies openers Chris Gayle and Kieran Powell are in the middle. A moment of a lifetime this!
TOSS: India have won the toss and opted to field first. A special coin to mark the occasion of Sachin Tendulkar playing his 200th Test was used for the toss presented to match referee Andy Pycroft by BCCI president N Srinivasan.
Don't miss the stories
followIndiaVision India News & Information
and let's be smart!