ADB to provide up to $9 bn loan to India over 3 years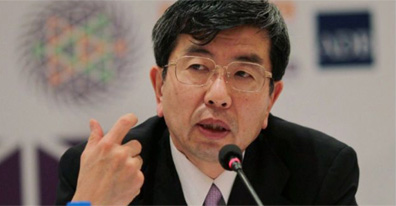 Committing to support infrastructure development in India, Asian Development Bank on Wednesday said it will provide up to $7-9 billion loan to the country over the next three years.
"ADB's operations for India will maintain high level of lending, amounting to a total of $7-9 billion over the next three years," ADB president Takehiko Nakao said in New Delhi.
Besides, the multilateral funding agency will provide around $30 million for technical assistance grants, especially for building institutions and capacity at the state as well as the local levels, he said.
Mr. Nakao, who is on two-day official visit, met Prime Minister Narendra Modi and Finance Minister Arun Jaitley and discussed macroeconomic situation and ADB's funding programme to boost infrastructure sector.
During the meeting, he emphasised that ADB will help India accelerate infrastructure development, boost manufacturing, improve skills of the young people to enhance their employability, expand trade through regional cooperation, and promote private sector activities.
Stressing that India has a potential to grow at 10 per cent, Mr. Nakao said its economy is expected to expand at 5.5 per cent in the current fiscal. For the next fiscal, it has projected a better growth rate of 6.3 per cent in 2015-16.
"To get back to a high growth path of 8 to 9 per cent, it is also crucial to implement investment-friendly reforms being initiated by the government," he said.
Easing the regulatory burden on industry by eliminating red tape and promoting inter-agency coordination, enabling single window clearance mechanisms, and reviewing land acquisition procedures should be part of the national strategy to attract local and foreign investors, he said.
"Together with efforts to build world class infrastructure and skills, these steps would create the job opportunities needed to absorb India's youthful and growing labour force and ensure that growth is inclusive," he added.
During the meeting with Mr. Nakao, Mr. Modi said that FDI is a focus area which he is committed to, according to an official statement.
He said 'Make in India' is not a slogan for improvement but a firm commitment and the country will demonstrate the commitment through actions.
"ADB president was particularly touched by the Prime Minister's emphasis on change, removing silos within government, improving co-ordination and focusing on results," said the statement.
The Prime Minister remarked that he has had a good experience with ADB in Gujarat during the earthquake reconstruction, it said.
Mr. Nakao said he was trying to do the same in ADB although it is a much smaller organisation, it added.
ADB is making efforts to reform itself by streamlining processes and system, Mr. Nakao said.
He stressed that India is regarded as a big market for foreign direct investment (FDI) and it is required for changing pace of growth.
India has great potential to grow faster and ADB will be supporting India to reach its potential, he said, adding that the population of India is its biggest plus point and as the cost of manufacturing goes up in other countries, India can capitalise on this to promote manufacturing.
Mr. Nakao applauded the government for presenting a growth-oriented budget, while committing to a path of fiscal consolidation.
Going forward, he said that "it is essential to increase capital expenditures as a ratio to GDP, enhance tax revenues through tax reforms such as the introduction of Goods and Services Tax and stronger tax collections, and streamline subsidies by better targeting".
He also encouraged the government to continue the prudent economic management for lower inflation and stable rupee.
Mr. Nakao told Indian leaders that infrastructure development would remain the main focus of ADB's operations in India, including transport, energy, and water supply and sanitation.
ADB will also participate in developing Smart Cities.
Infrastructure projects will give priority to lagging states to support poverty reduction, he said.
In order to speed up the implementation of infrastructure projects, ADB has just introduced major reforms to streamline its procurement procedures, relying more on country systems and delegating more authority to country offices, he added.
ADB is providing loans to state governments to train young people for modern jobs.
Mr. Nakao expressed his full support to help realise Prime Minister Modi's vision on regional integration and connectivity.
ADB is providing in 2014 loans amounting to $1.2 billion to projects under the framework of the South Asian Association for Regional Cooperation (SAARC).
These include loans and technical assistance to support subregional roads, hydropower generation, cross border power lines, and trade facilitation.
Don't miss the stories
followIndiaVision News & Information
and let's be smart!