Centre names 3 black money account holders in affidavit to SC: TV reports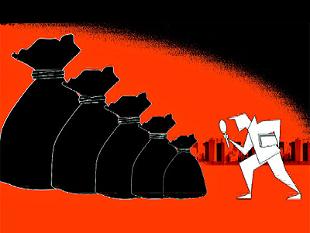 NEW DELHI: The Union government has named three persons who are black money account holders in an affidavit to the Supreme Court, TV reports said.
According to television reports on Monday, the three persons named are Pradip Burman, director of the Burman Group, Pankaj Chimanlal Lodya, a Rajkot-based bullion trader and Radha S Timblo, a Goa-based miner and owner of Timblo Pvt Ltd.The television reports also indicated that four members of the Congress party, including a former minister of the previous UPA regime, are under investigation, and added that their names may be revealed after the probe is completed. Among the four Congress party members are two belonging to powerful political families in the state of Maharashtra, the television reports further stated.Last week, it was revealed that the Centre was likely to tell the apex court the names of the people against whom strong evidence exists of stashing away black money in Swiss banks in a major step in its crackdown on India's parallel economy.
On Monday, Attorney General Mukul Rohatgi is reported to have submitted a supplementary affidavit in the apex court detailing plans to submit the list of names in a sealed envelope.
The court is due to continue hearings on a petition on black money the following day.
Prime Minister Narendra Modi's government is moving fast to repatriate hundreds of billions of dollars in slush funds or black money stashed abroad, as part of a wider clampdown on corruption that he promised during his election campaign.
The government is building pressure particularly on Switzerland, seeking details of Indians who have parked unaccounted for money in Switzerland's highly secretive banks. It has quickly implemented a Supreme Court directive to set up a high-powered special investigation team, headed by retired judge M B Shah, to look into the issue.
While there are no official estimates, Global Financial Integrity (GFI), a Washington-based think-tank, has estimated that Indians had parked USD 462 billion in overseas tax havens between 1948 and 2008.
Black money arises mainly from incomes not disclosed to the government usually to avoid taxation, and, sometimes, because of its criminal links. About a third of India's black money transactions are believed to be in real estate, followed by manufacturing and shopping for gold and consumer goods.Earlier, the BJP government had told the apex court that it could not disclose the names of those who have deposited money in banks abroad as it this would jeopardize tax agreements with nations providing those names to India.
There were murmurs of protest within the ruling BJP that not disclosing names would hurt the party's image after it had made bringing back black money, a key issue in a general election that it won by a landslide. The Centre's stand also drew a strong response from the Congress, which accused it of hypocrisy.
Turning the tables on the Congress, finance minister Arun Jaitley had recently said the disclosing of names of people holding black money accounts will embarrass the opposition party.
The Congress had hit back, daring the government to come out with complete information without indulging in "selective leaks" and pointing out that "the Congress is not going to be blackmailed under any such threat".
Don't miss the stories
followIndiaVision India News & Information
and let's be smart!