Domestic passenger car sales increased 14.76 per cent to 1,60,232 units in June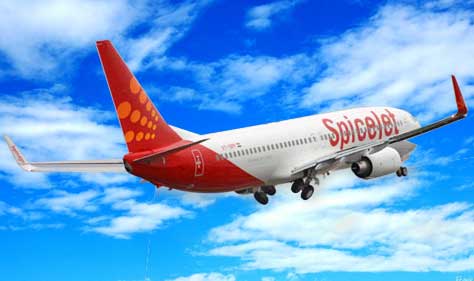 New Delhi: SpiceJet today launched a fire sale for travel beginning next calendar year, at fares which are about 35-40 percent lower than prevailing rates on most routes.
The airline said base fares begin at Rs 999 and that it will offer a million seats at these discounted fares between January and October of 2015, provided bookings are done by 10 July. As of now, no other airline has imitated SpiceJet with a similar offer.
Though SpiceJet has been at the forefront of fare sales since the beginning of this year, the latest round is surprising for various reasons. For one, it is perhaps for the first time that any Indian airline wants passengers to book six months or more in advance. This is a widely followed practice by LCCs in other countries – notably by AirAsia – but has rarely been followed in India.
Discarding its earlier policy of offering all-in-one fares, SpiceJet has said that the Rs 999 starting fare is just the base fare and other fees, taxes remain extra. This really means the actual ticket costs much more.
It also says that tickets sold under this scheme are non refundable and cannot be cancelled. Has it been permitted by aviation regulator DGCA to offer tickets where no refund or cancellation is possible? Current guidelines do not permit sale of such tickets.
A SpiceJet spokesperson said, "Fees and taxes will be refunded as per DGCA guidelines. The base fare (which is now simplified to include what used to be fuel surcharge) will not be refundable."
Aloke Bajpai, CEO of travel search and planning company ixigo, says this sale may not be lucrative enough to trigger advance purchase behaviour of Indian passengers with such a long lead time.
Indians are just not used to planning this far ahead, specially when the discounts on many sectors do not appear to be steep, he said.
Another industry watcher said this seems a move by SpiceJet to generate quick funds for the current quarter and the airline might use this advance sale in talks with a potential investor for a stake sale.
Back of the envelope calcuations show a million seats over 10 months could mean less than 5 per cent of the airline inventory is on offer at these discounted prices.
SpiceJet has been trying all tricks in the book to return to profitablity. It recently became the first low cost carrier (LCC) recently to offer 'Premium Economy' seats on its aircraft with larger leg space of 36 inches. And then began offering 'Business Class' comforts for a small price to corporate travellers and frequent flyers.
In FY14, SpiceJet posted a record net loss of Rs 1003 crore. Will fire sales and special offers catering to frequent and business flyers help turn around the airline? Its auditors have been raising concerns over its "going concern" status since SpiceJet's liabilities till March were far in excess of its assets. Things are expected to improve in the first quarter of this fiscal (results not available till now) though.
A senior Govrnment official he had been told that the airline might report a modest net profit for the June quarter.
Why SpiceJet has launched this fire sale should also be seen in the context of heightened competition. Airline officials had earlier explained that the LCC model worldwide works on almost daily discounts for advance bookings.
But then, in other countries some other pricing tricks are also religiously followed: spot fares and short duration advance purchase prices are very high, ancillary services such as check-in bags, food, blankets, cancellation etc invite a separate and hefty fee. And in most other countries with a robust LCC model, jet fuel is not priced as exorbitantly as in India.
Since Indian LCCs work in a very high cost environment, with expensive jet fuel and absence of other low cost infrastructure, the leeway in offering dirt cheap fares is very little.
Since mid-June, all LCCs have been offering unsustainable low fares to wean away passengers from AirAsia India. AirAsia began the current bloodbath by offering Rs 5 fares (total Rs 490 after taxes and other levies) for 15,000 seats. The airline then further added 10,000 seats at this price. SpiceJet began offering fares of Rs 1499 (all inclusive) on some of these routes and then IndiGo joined the war with Re 1 base fare offers.
The operating environment for LCCs will remain tough in India since ATF taxation is unlikely to be eased in a hurry. SpiceJet has already cut back on a lot of loss making and unviable routes and its load factors have improved in recent months. Fare promotions must be helping too but the most important thing for the airline now is urgent infusion of funds – either by the promoter or by a strategic investor.
Don't miss the stories
followIndiaVision News & Information
and let's be smart!