For HCL heiress Roshni Nadar, philanthropy is priority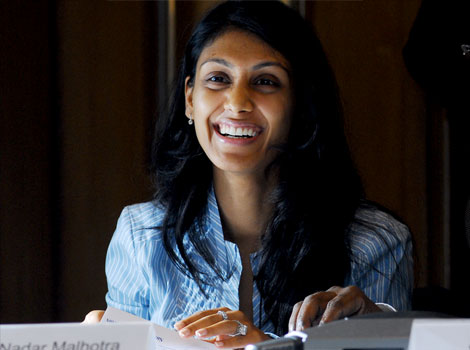 For HCL heiress Roshni Nadar, philanthropy is priority
By Gyanendra Kumar Keshri
New Delhi – As chief executive officer and executive director of HCL Corporation, Roshni Nadar Malhotra is responsible for strategic decisions of the $6.3 billion company founded by her father Shiv Nadar.
Being the only child of Nadar, who according to Forbes list is India's ninth richest person with a personal fortune of $8.6 billion as of October 2013, she is destined to inherit the business empire that include India's two prominent IT firms.
However, Roshni is in no hurry to get involved in the core business of the group and day-to-day operations of group companies. Philanthropy is at the top of her priorities now, and it would remain so in the future as well, she says.
When IANS caught up with her and asked whether she is ready to step into her father's role, Roshni replied firmly: "No."
"My focus is HCL Corporation and Shiv Nadar Foundation. These two are so big. First have to make sure you do enough justice to your role before you take more in your plate."
HCL Corporation is the holding company of two publicly listed firms, HCL Technologies and HCL Infosystems, and some other entities. HCL Technologies is India's fourth largest software services firm while HCL Infosystems is a prominent player in hardware business of computers and tablets.
The Shiv Nadar Foundation is the philanthropic arm of the group.
Roshni, 32, joined HCL Corporation and the Foundation in 2009, after a brief career in media as a news producer with Sky News in London and CNN America.
As per Forbes rich list released recently, Shiv Nadar is India's ninth richest person with a personal fortune of $8.6 billion as of October 2013. Nadar, 68, has indicated in the past that baton of the empire would be passed on to the daughter as and when he retires.
Roshni, an alumnus of US-based Kellogg Graduate School of Management, said her family targets to invest Rs.6,000 crore ($1 billion) in various philanthropic initiatives under the Shiv Nadar Foundation.
The Foundation, set up in 1994, has invested Rs.1,801 crore till March 2013. Additional Rs.3,000 crore is committed for the next five years, she said.
The Foundation early this week released its first-ever annual report giving details on how it has spent the money and its future plans.
Roshni, who is a trustee of the Foundation, said the reason behind the release of annual report is to ensure transparency and accountability in the functioning.
"Our aim is to set some kind of benchmark and standards for transparency and governance in private philanthropy," she said.
She said there is a need for setting up some sort of regulatory body in India in line with some Western countries like the UK to ensure transparency in the functioning of charity and philanthropic institutions.
The Foundation's initiatives include VidyaGyan schools in Uttar Pradesh, SSN Institutions in Tamil Nadu and Shiv Nadar University, an international multi-disciplinary university located in Greater Noida.
VidyaGyan schools have expanded their outreach to nearly 200,000 children in 75 districts of Uttar Pradesh, India's most populous state.
As a representative of the Foundation, Roshni was involved in a joint initiative with the Rajiv Gandhi Foundation to promote education of Dalit and Muslim girls in backward districts of Uttar Pradesh.
Don't miss the stories
followIndiaVision India News & Information
and let's be smart!