Gold Continues to Regain Strength
646 Viewed
Alka Anand Singh
Comments Off

on Gold Continues to Regain Strength
Tweet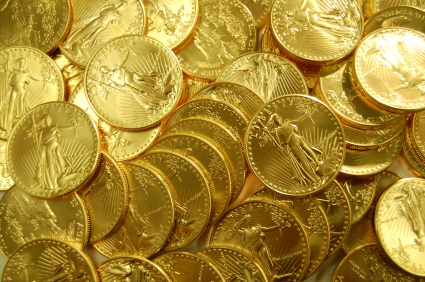 Gold dropped Rs. 275 to Rs. 29,900 per ten grams
Gold's ongoing advance has put the squeeze on short sellers, causing a short-covering rally which led to gold's fourth consecutive week of gains.  The spot ETF, gold, gold ETFs, NYSEARCA:GLD, NYSEARCA:IAU, NYSEARCA:SLV, NYSEARCA:AGQ, NYSEARCA:PPLTprice of gold finished Friday's trading session above its 50-day moving average, with the formation of a bullish, inverse head-and-shoulders pattern on its chart.  Demand for physical gold is expected to increase as Chinese New Year approaches on January 31.
Gold prices had been suffering from publicity surrounding the anticipated taper of the Federal Reserve's bond-buying program.  The quantitative easing program is credited with pushing gold prices to record highs during 2011.  The weakening of the dollar resulting from quantitative easing had enhanced gold's status as a "safe haven".  As a result, the phase-out of QE has been seen as a threat to gold prices.
The spot price of gold rebounded with advent of the new year, despite the fact that the dollar was gaining strength at the same time.  A bullish "double-bottom" on the chart for gold's spot price appeared on December 19 and December 31 and investors who followed that signal have been served well.  Gold's declines on Tuesday and Wednesday – followed by its advances on Thursday and Friday, completed the formation of a new, bullish, inverse head-and-shoulders pattern on the chart.
When gold's spot price rose above $1,237 per ounce on January 3, it broke the neckline of December's bearish head-and-shoulders pattern.  Nevertheless, it must reach $1,322 per ounce before it reaches the neckline of the October 17 – November 11 head-and-shoulders pattern in order to break its curse.
The chart below depicts the trading activity in the SPDR Gold Trust ETF (NYSEARCA:GLD) during the past 180 days
As with the spot price of gold, the neckline of the December's bearish, head-and-shoulders pattern has been broken and a bullish, inverse head-and-shoulders pattern has been formed on the chart for GLD.  After closing above its 50-day moving average on Friday, the next overhead resistance level for GLD will be the neckline of the head-and-shoulders pattern running from October 16 through November 8: $127.50.
GLD's Relative Strength Index climbed to 57.10 from last week's 55.56.  The MACD is climbing further above the zero line, suggesting that GLD could continue its advance during the immediate future.
Don't miss the stories
followIndiaVision India News & Information
and let's be smart!
Loading...
You need login to vote.