Kushal Pal Singh: The man who built India's first smart city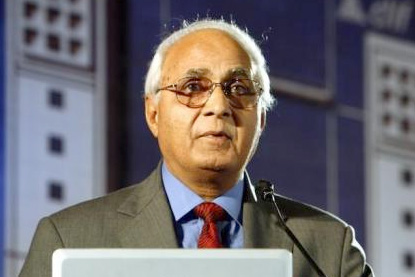 It was, by his own account, a chance encounter with a scion of the Gandhi political dynasty that turned former soldier Kushal Pal Singh into the man who built a city from nothing and made billions in the process.
Singh was toppled from his spot as the country's richest property developer this week, when his real estate company DLF was hit with an unprecedented three-year ban from capital markets, accused by market regulator Securities and Exchange Board of India (Sebi) of failing to disclose key information at the time of its record-breaking initial public offering (IPO) in 2007.
Investors wiped more than US $1.3 billion off the indebted company's market value after the decision.
Village boy-turned-visionary developer, Singh may be largely unknown outside the country. However, as the man who built "boom city" Gurgaon and fostered the outsourcing industry – with a little help, he says, from ex-General Electric boss Jack Welch – he has been among the most influential domestic names of recent decades.
His political links, to the Gandhi family in particular, have also placed him among the more controversial.
To its cheerleaders, Gurgaon, the city he imagined and built 15 miles outside the national capital, is a prototype of where young, upwardly mobile citizens want to live and work. The outsourcing boom has made the city the third-richest in the country.
"It is India's first smart city," said Rajeev Talwar, executive director at DLF. "Its infrastructure may be creaking… But there is a new part which supports a new kind of life."
To its detractors, though, Gurgaon is the epitome of the fervid real estate speculation and dysfunctional urban sprawl that threaten the country's cities as populations boom. Water and power are unreliable, social problems abound and private contractors have had to step in where the police have failed.
Gurgaon's population has ballooned by about three-quarters to 1.5 million people in the 10-year period to 2011.
BOOM CITY

It has been a difficult year for the DLF chairman, whose fate from the start has been closely tied to that of the Gandhi family. Haryana has long been a stronghold for the family and the Congress party.
After a decade in power, Sonia Gandhi-led Congress was ousted in May's general election by Narendra Modi and his Bharatiya Janata Party (BJP). Haryana's voters threw out Congress in this week's Assembly elections and strongly backed the BJP, exit polls show. Results are due Sunday.
"There are businesses that have benefited from managing their political connections, and real estate is one of them," said an executive whose company works with DLF, but did not wish to be named because of the sensitivity of the issue.
In Singh's case, the link goes back decades.
In his autobiography, the DLF chief describes how in 1980 he accidentally met Rajiv Gandhi, the prime minister from 1984 to 1989, when the latter was travelling to Gurgaon and had stopped for water to cool his car's radiator.
Singh, whose family property firm had been pushed out of the capital by strict development laws, says he shared his plan for the dry and desolate Gurgaon region, and his fate was sealed.
The chance meeting served DLF well for several years during which Singh – even at 82, a sharp dresser with military bearing – amassed 3,500 acres of land in Gurgaon, some of it still undeveloped.
"A salute to the old man to have at that time thought of putting together the entire site and not be tempted to gain by selling parcels of land to other developers," said Anuj Puri, chairman and country head of Jones Lang LaSalle, a property consultancy that advises DLF.
In 2007, the real estate major listed in what was then the country's largest IPO. The atmosphere at DLF, one employee recalled, was "electric".
However, politics also cost Singh dearly as DLF has been pulled up several times by opposition party members and anti-corruption activists who accused it of improper land deals with family members of Congress Chief Sonia Gandhi.
It is familiar ground for Singh, whose fallout with Haryana's Congress party Chief Minister in the 80s cost DLF nearly a decade of lost development opportunities.
But the timing of Sebi's order this week, two days before the Haryana assemble elections, has strengthened views that DLF's close ties with Congress could also work against it.
For the market watchdog, it is simply about targeting the big fish, in a bid to boost investor confidence. DLF and its supporters say they will seek to work with the government, regardless of political shades.
However, even detractors say it is not the end of the road for Kushal Pal Singh or DLF.
"It is not the end of the road for them. These companies don't disappear," said Prashant Bhushan, a veteran lawyer and anti-corruption activist who has long campaigned against DLF.
DLF on Friday filed an appeal against the Sebi's ban order, the first hearing for which will be heard on October 22.
Don't miss the stories
followIndiaVision News & Information
and let's be smart!