Modi to undertake over 50 engagements during US visit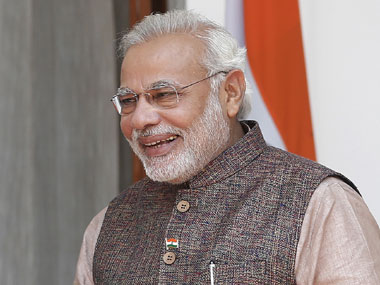 From meeting President Barack Obama to delivering his maiden speech at the UN General Assembly, Prime Minister Narendra Modi will have his hands full during his visit to the US, where he is expected to undertake more than 50 engagements over 100 hours of stay. A hectic agenda awaits Modi in the US as he would utilise his stay to meet top global leaders, address thousands of cheering crowds, make a speech at the UN General Assembly (UNGA) and interact with CEOs of the Fortune 500, in addition to his Oval Office meeting with President Obama. The series of engagements – estimated to be over 50 – in a little over 100 hours from the time Air India One touches down at the John F Kennedy international airport in New York on September 26 till the wheels are up at the Andrews Air Force Base in Washington on September 30 evening – are all aimed at achieving Modi's goal of a resurgent India. In his interactions with top American CEOs, a majority of whom are said to be from Fortune 500, the Prime Minister would be rolling out his policy of "red carpet and not red tape" to invite them to come, invest and make in India. In his interaction with leaders like American business magnate and former New York Mayor Michael Bloomberg, Modi would be listening to his experience of smart cities. In his address to nearly 20,000 Indian-Americans and in his subsequent meetings with the Indian diaspora, Modi is expected to seek their "partnership" in a resurgent India, which occupies its due place in the international community. Modi would also be meeting top American political leadership ranging from former US President Bill Clinton and former Secretary of State Hillary Clinton to Indian-American South Carolina Governor Nikki Haley. Modi will be hosted for tea by Speaker of the US House of Representatives Joe Boehner and more than 50 lawmakers during his stay either in New York or Washington. In Washington, there is a very high level of expectations from Modi's meeting with President Obama. Obama has gone out of his way to host a rare private dinner for Modi at the White House on September 29, so as to establish a personal relationship with the Indian leader. Ahead of his main summit at the White House on September 30, Modi would visit the Martin Luther King Memorial and Lincoln Memorial in Washington and pay floral tribute to Mahatma Gandhi's statue in front of the Indian Embassy. This would be for the first time that an Indian Prime Minister would have so many public and private engagements during a US visit. With an unusually lean and thin delegation on board, the Air India One would land at the John F Kennedy Airport on September 26 afternoon, where Modi would be received by Indian Ambassador to the US S Jaishankar and Indian Ambassador to the United Nations Asoke Mukerji. New York City Mayor Bill de Blasio would make a courtesy call on the Prime Minister on the day of his arrival. He would also meet Noble Laureate Harold Eliot Varmus, who is the current Director of the National Cancer Institute. Modi would begin the next day, September 27, with a visit to the 9/11 memorial New York, after which he is expected to drive down to the United Nations headquarters to address the 69th annual session of UN General Assembly. His speech will be televised live in India. Following his address, Modi is scheduled to have a series of bilateral meetings with a host of world leaders. He would also meet UN General Secretary Ban Ki-moon. On Saturday Modi would meet Bloomberg, mainly because of his involvement in smart city projects. The Prime Minister is interested in seeking his views on the ambitions 100 smart cities project that his government has undertaken after coming to power in May this year. The same day, the Prime Minister will drive down to the historic Central Park to address the annual Global Citizens Initiative, which aims at building a sustainable world community for all. Modi is expected to deliver an address to the thousands of people who would gather at the Central Park for the event. Later in the evening, Modi would meet a small group of eminent Indian-Americans, with whom he would like to talk essentially about the role the community can play in achieving his goal of inclusive growth, resurgent India and to strengthen India-US relationship. September 28 is a day dedicated to the Indian diaspora on his calendar, wherein he would address some 20,000 Indian – Americans – from 48 American States and five Canadian provinces – at the Madison Square garden, with several thousand people watching them live at the iconic Times Square. He would also meet Haley before heading to Madison Square Garden event. Bobby Jindal, another Indian-American Governor, is not on Modi's list of meetings. Several Congressmen, including Indian-American Ami Bera are scheduled to either listen to Modi's speech at the Madison Square Garden or attend the community dinner hosted in his honour by the Indian Ambassador later in the evening. On Monday, September 29, Modi is expected to begin his day with a meeting with top American CEOs. While the list of attending CEOs has not been released, a significant majority of them are likely to be from Fortune 200 and almost all of them from Fortune 500, thus reflecting the new energy and enthusiasm about India among the top American corporate executives. A select group of top American CEOs are likely to call on Modi separately on a one-on-one basis. Thereafter the Prime Minister has a meeting with former US President Bill Clinton and former Secretary of State Hillary Clinton. After meeting them, Modi will drive down to the Council on Foreign Relations, a top American think-tank where, he would interact with the who's who of the US think tank community on foreign policy matters. The media has not been invited for it, but the event would be telecast live on the internet. Soon after that, Modi would head towards the airport and land at the Andrews Air Force in Washington DC later in the afternoon. In the evening, Obama will host a private working dinner in Modi's honor at the White House. Next morning, on September 30, Modi will visit the Marin Luther King Jr memorial and Lincoln memorial, and would pay floral tributes to Mahatma Gandhi's statue in front of the Indian Embassy in WashingtonC. He would also spend some time inside the Embassy and interact with the Embassy staff – a practice that he has started during his overseas trips. Thereafter, Modi would drive down to the White House for meeting with Obama at his Oval Office. A joint statement is expected to be issued at the end of the meeting. There is also a possibility of the two making a joint appearance to the media in the Rose Garden. Modi would then be hosted for lunch by Vice President Joe Biden and Secretary of State John Kerry at the Foggy Bottom headquarters of the State Department. Following the lunch, Modi would go to the Capitol Hill for a tea hosted in his honor by the Speaker of the US House of Representatives. A large number of US lawmakers are expected to attend this despite that they would be busy in their election campaign. There is no separate Senate meeting, but many of the leading Senators are expected to meet him during the course of his stay in New York and Washington DC. The US India Business Council (USIBC) would then host the final public engagement for Modi, which would be attended by a large number of American CEOs. Modi is likely to deliver a speech here, before the wheels are up at the Andrews Air Force Base in the evening of September 30.
Don't miss the stories
followIndiaVision India News & Information
and let's be smart!