Onion prices continue to rule upto Rs 90/kg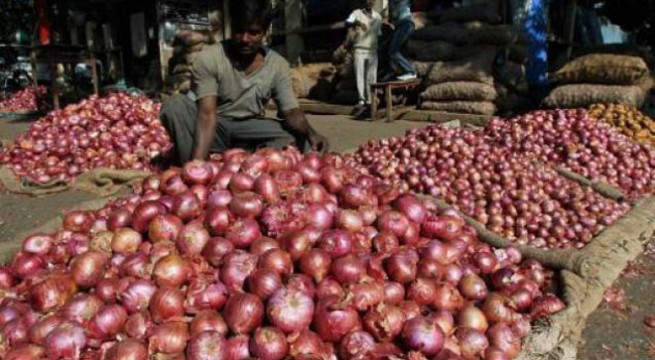 Onion prices continue to rule upto Rs 90/kg
Providing no respite to consumers, retail prices of onions on Monday continued to rule high upto Rs 90 per kg in most parts of the country despite some easing of rates at wholesale markets on improved supply of fresh crop.
Lower retail price of Rs 42-45 per kg of onion are ruling in Agra, Rajkot, Vijayawada and Hyderabad, as per the data maintained by the Consumer Affairs Ministry.
However, retail prices of onion are expected to come down post-Diwali on significant supply of the kitchen staple in most consuming states, experts and traders said.
In North India, retail prices were today ruling at the maximum of Rs 90/kg in J&K, followed by Rs 80/kg in Delhi, Hisar and Varanasi and Rs 70-75/kg in Lucknow and Amritsar.
In other parts of the country, retail prices continue to rule above Rs 45/kg but highest rate of Rs 70-80/kg prevailed in some cities like Thiruvanthapuram, Shillong and Guwahati.
"It will take some time to see the drop in retail prices. But arrival of fresh crop has improved and wholesale prices have started easing. Wholesale rates have fallen below Rs 40/kg and more drop in prices are expected after Diwali," Government research body NHRDF Director R P Gupta told.
Supply to Delhi has improved from Maharashtra, Karnataka, Madhya Pradesh and Rajasthan. "Pressure on prices is likely to come down in the coming days," he observed.
At Lasalgoan in Maharashtra, Asia's biggest onion wholesale market, prices have come down by Rs 20 to Rs 32.30 per kg in last ten days, as per the data maintained by the Nashik-based National Horticultural Research and Development Foundation (NHRDF).
Interestingly among metros, the rate of fall in wholesale prices in Delhi has been significant as compared to other cities. Delhi witnessed a price fall of Rs 9 to Rs 43 per kg onion, while Mumbai saw a drop of only Re one per kg to Rs 50 per kg in last ten days.
On contrary, Kolkata and Chennai witnessed a wholesale price increase of Rs 3 per kg to Rs 53.75 per kg and Rs 55 per kg, respectively, in the review period, the data showed.
Traders attributed floods and heavy rains in Andhra Pradesh and Odisha for the price rise in Kolkata and Chennai. These two states meet onion demand of neighbouring states.
"Wholesale prices are softening," said Rajendra Sharma — the president of Delhi Agricultural Produces Market Committee — and added that onion arrival at Azadpur mandi has doubled to 2,000 tonnes today.
Fearing high onion prices could impact forthcoming assembly elections, the Delhi government has already sent a team to Maharashtra to scout for cheaper onions.
It has also got permission from Election Commission to sell onions at lower rates via mobile vans and outlets to provide relief to consumers.
Onion prices have skyrocketed across the country in the last three months due to shortage of supply owing to extended monsoon rains in producing belts.
The kharif crop is being harvested in states like Maharashtra and Karnataka but rains in between have damaged the crop, deepening the shortage crisis in consuming states.
The Centre has taken several measures to contain prices. It has restricted exports and allowed imports. State-run Nafed has floated an import tender, which will open tomorrow.
Don't miss the stories
followIndiaVision News & Information
and let's be smart!