Rail budget 2014: Mallikarjun Kharge unlikely to cut passenger fares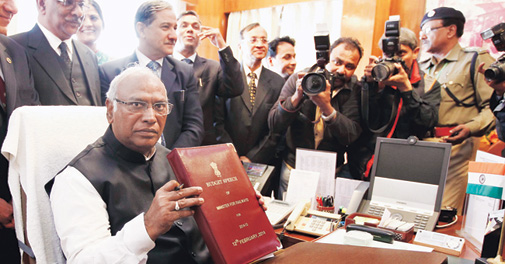 As Railway minister Mallikarjun Kharge presents the interim railway budget on Wednesday, the priority would not be the populist schemes but to curb the falling number of passengers and contain the losses in the segment which have mounted to Rs 26,000 crore.
Experts believe the railway minister has tough task at hand of increasing the revenues without touching the freight rates, which are already higher than other countries.
At present, there's a shortfall of over Rs 4,000 crore in the passenger segment. The total passenger revenue earnings during April-December 2013 were Rs 27,646.10 against the target of Rs 31,650 crore for the same period. The total number of passengers booked during April-December 2013 were 6,359.77 million compared to 6,413.89 million during the same period last year.
Last time Railways saw fall in passenger number was in 2003 when it had raised the passenger fares. This time too, passenger fares were raised and fuel adjustment component was levied on passenger fares. The trend shows that with the increase in passenger fares, the number of passenger travelling short distance of up to 60 km falls.
The losses are being cross subsidised by profit making freight segment. The national transporter is in a catch-22 situation as it has to cut down on passenger losses by increasing the passenger fares but at the same time it also has to contain falling number of passengers.
In 2013, passenger fares on an average were increased by 20% and a fuel adjustment charge of 2% was also levied in October last year.
Railways is expected to get Rs 30,000 gross budgetary support from the ministry of finance and its total plan size is expected to be in the tune of Rs 65,000-67,000 crore. The railway minister is also expected to announce premium trains with dynamic prices on select routes.
Don't miss the stories
followIndiaVision India News & Information
and let's be smart!